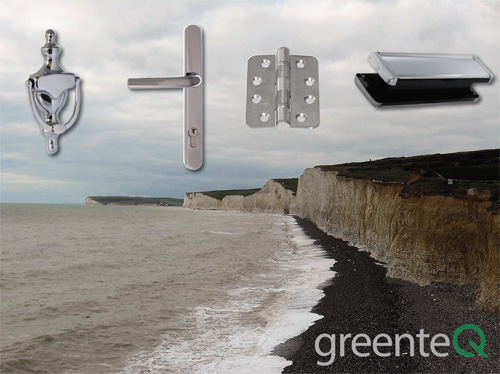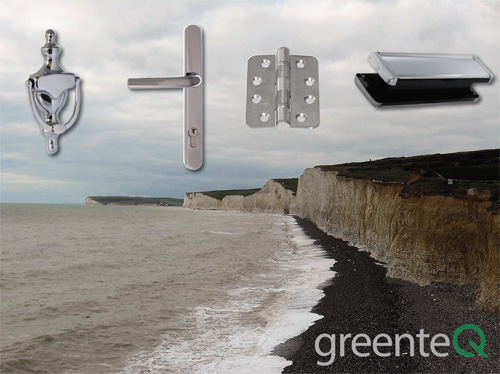 Hardware specialist, VBH, has added a new range of stainless steel door hardware to its greenteQ range. The suite will be branded 'Coastline'.
greenteQ Coastline comprises 92PZ door handles, letterboxes, butt hinges and door knockers and according to VBH, it has been developed in 'direct response' to feedback from customers who required a stainless steel furniture suite for installations in aggressive coastal and/or industrial regions both in the UK and overseas.
All Coastline furniture is produced from corrosion resistant and hard-wearing austenitic stainless steel and is subjected to in excess of 1000 hours neutral salt spray testing to BS EN ISO 9227:2012.
VBH advises that Coastline products are already proving popular with manufacturers and installers of doors of all materials, including PVC-U, composite, timber and aluminium.
VBH technical manager, Melvin Hutton, said: "Customers were telling us that they wanted stainless steel versions of our standard furniture. The existing greenteQ Alpha 25 stainless steel door handles have become very popular over the last 12 months, but we also needed suited letterboxes and knockers which meet the same anti corrosion standards. We've now introduced these new products and a brand new butt hinge and have grouped them with the door handle to form the new and exciting greenteQ Coastline range."
Coastline furniture is currently available in brushed or polished stainless steel and polished PVD gold and chrome, with satin and polished stainless steel hinges.
Melvin concluded: "We have real confidence in the performance of the Coastline range and back it up with a reassuringly long 25 year guarantee. Many of our customers have been able to achieve higher sales prices as a result of fitting Coastline products and have found that the guarantee will often help to close a deal."