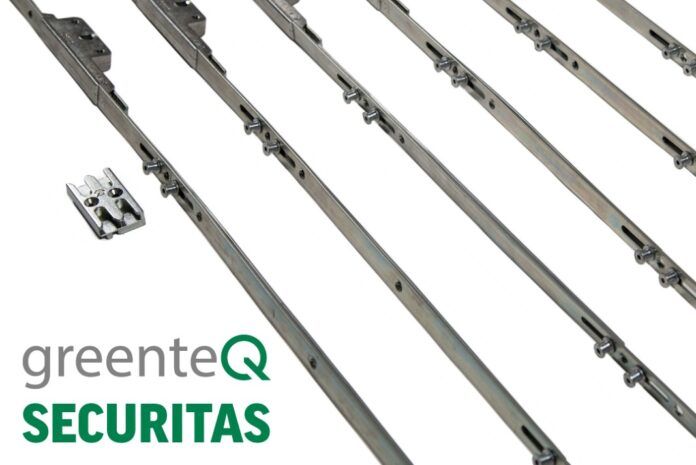 The Securitas Security window espagnolette is proving very popular with window manufacturers, a representative of the hardware specialist business VBH has reported. As part of the company's GreenteQ range of casement window locking systems, Securitas sits alongside the entry-level GreenteQ window espagnolette, the popular PAS24-tested Invicta window shootbolt and the recently introduced iQ Security espagnolette that works with Kubu to provide smart home connectivity.
Securitas features pairs of mushroom-headed cams that lock into both sides of a night vent striker plate, spreading the load if the window is attacked, rather than allowing all the force to be concentrated on one point. Each Securitas lock has a minimum of 4 mushroom cams (2 pairs) with the larger sizes boasting 4 pairs.
Securitas is reportedly very quick to fit, as all fixings are applied in the same direction and there are no extensions to connect. The VBH team advises that Securitas fits most of the popular profile systems that are currently in use, as it is available with industry-standard 20 and 22mm backsets and a choice of two mushroom cam heights. As well as providing security, the mushrooms are adjustable to ease or tighten gasket compression.
"Securitas has been a popular addition to our range and is ideal for fabricators who want a robust, secure, window lock but want the ease of fitting and reduced stock-holding offered by an espagnolette type product," said Gary Gleeson, VBH's marketing manager. "Securitas has been successfully tested on PVC-U windows to PAS24, and is rated as a premium product in the Q-secure approved products list.
"Securitas is one of many locking options already within the GreenteQ range, and we will be launching more soon. This will give window manufacturers even more choice when they buy from VBH."
To find out more about Securitas and the rest of VBH's range, visit vbhgb.com, email sales@vbhgb.com or call 01634 263 263.