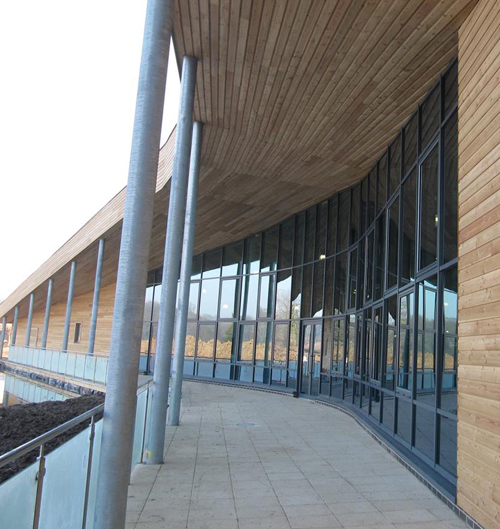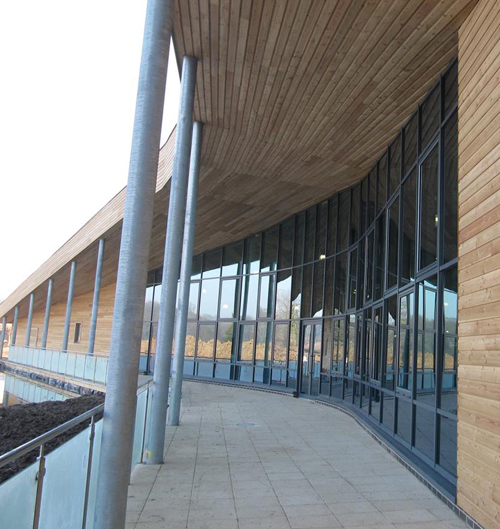 Floor to ceiling glazing from Jack Aluminium has provided uninterrupted views across the golf courses against the backdrop of Richmond Park, following a £3 million improvements programme at Richmond Park Golf Club in Surrey.
Jack Aluminium's low 'U' value 125mm reinforced aluminium curtain walling system was chosen by Yorkshire based MBE Glazing Systems for the 'eco-friendly' clubhouse building, which has been built to BREEAM excellence standard.
Managing director at MBE Glazing, Popsie Singh, said: "When it comes to specifying products for low rise applications such as leisure, retail and commercial buildings, Jack Aluminium's curtain wall system is ideal. It has aluminium and PVC-U pressure plates which improve the thermal performance so we can achieve low 'U' values and I really like how quick it is to assemble on site with the 'clip-in plate' and ladder system.
"We have a long standing relationship with Jack Aluminium. Jeff and Ashley give us good advice, it's quick on turnaround and the pricing is competitive which is very important in this market."
The golf course was originally opened in 1923 by HRH Prince Edward of Wales and retains its Royal beginnings with the Duke's and Prince's 18 hole golf courses. The new clubhouse, which features a coffee shop, bar and restaurant, has been designed to provide panoramic views of the club's two courses and blend in with its parkland surroundings with the roof covered in the same grass as the park.