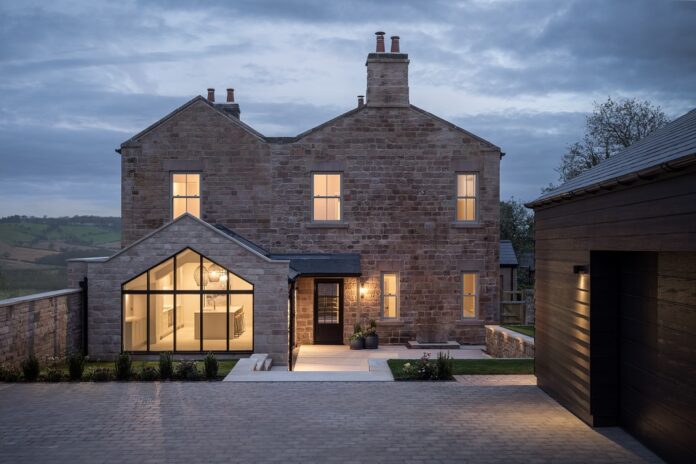 Andas Homes selected Quickslide's windows for its heritage renovation in Yorkshire. The word 'andas' means 'breathe' in Swedish. Representatives of both Quickslide and the colour-coating specialist Kolorseal expressed delight at helping Andas Homes live up to its name and breathe new life into this development of luxury homes.
Quickslide's sliding sash windows completed the restoration of the 19th-century Harewood Estate farmhouse, Chapel Wold. Careful consideration was given to ensure that the property's traditional Yorkshire stone walls and slate roof would be complemented with perfectly proportioned, authentic yet highly efficient sash windows, to reflect both the heritage and luxury of the new development, Quickslide representatives have said.
Holly Simpson, an Andas Homes designer, said: "Chapel Wold is a luxury, sensitive renovation which draws out the character of the existing buildings and breathes new life into their timeless traits. We love the quality and performance of Quickslide's sliding sash windows, in particular the run through sash horns which make the frame so authentic." Anda Homes has previously worked with Quickslide on other premium heritage projects over the years
The process of transforming the period farmhouse into a luxury home uncovered heritage features including fireplaces, oak beams and a stone floor basement which were all carefully renovated and restored, according to business leaders. A new garden room extension made a modern yet sympathetic addition, along with a spacious outside seating area and landscaped garden.
Andas Homes opted for a bespoke colour frame. Quickslide chose Kolorseal, its regular supplier for colour coating, for this. Kolorseal was able to match the exact preferred shade of light grey.
Ben Weber, Quickslide's managing director, explained: "Together with Kolorseal, we can give home builders high quality, stunningly beautiful products in the exact shades their customers are looking for. This luxury development at Chapel Wold is just the latest example of how doors and windows are transforming home design.
"Glazing elements are now so much more than just building products. They add value and personality to the very fabric of home building and are an integral and crucial consideration in the internal and external design of a home."