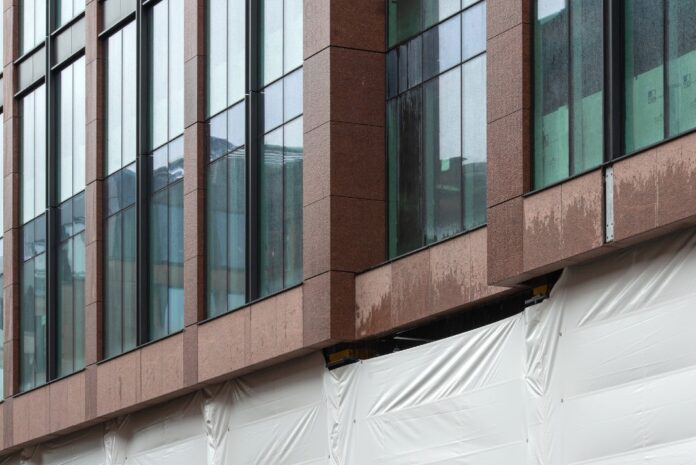 Base Structures has completed the installation of a series of removable and adaptable temporary fabric screens to aid site access at a prominent city-centre construction site. The screens offer protection from rapidly deteriorating weather conditions.
The client was looking for temporary screening to secure a 15-storey office building, guaranteeing that the programme of work could continue uninterrupted and meet pre-arranged turnaround times. To meet the requirements of the proposal, Base Structures installed 44 screens across the length of the building: a total fabric area of 1,800m².
Designed to withstand all relevant British Standard wind loadings and fire retardancy requirements, new attachment methods were devised with the client to circumvent the existing columns. The results were cost effective, versatile and offered much more flexibility considering site conditions and access requirements, according to Base Structures' representatives.
"The temporary weathering solution installed by Base Structures is a great design and fitted our needs perfectly," the client reported. "The installation team have maintained an extremely high standard of quality and safety, and have delivered the install ahead of the anticipated programme."
Any Traynor, head of installation on the project and director of Base Structures, added: "These temporary fabric screens help solve a problem for a client at a vital time in their building programme, enabling them to work uninterrupted in areas where the building exterior is yet to be completed. Tensile fabric is perfect for this job, as it can be installed quickly with minimal disruption, allowing contractors to get on with the job and fulfil tight turnaround times. These screens are also very easy to dismount, so when they're no longer needed, we will remove them."
Base Structures is committed to the upcycling and reuse of tensile fabric that has not yet reached its end of life. The business' zero-landfill policy means that screens like this can find another useful life elsewhere. To speak to Base Structures about similar projects, or where expertise such as this can add value and time-efficiency to your building programme, call 0117 911 5250 or email sales@basestructures.com.