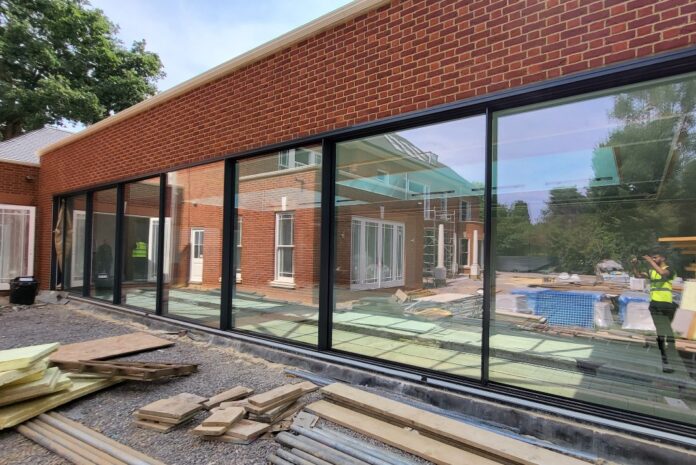 Trade supplier Direct Trade Windows has helped to transform a new residential development in Hersham, Surrey. Working with the luxury home developer Park Lane Developments, the company supplied ultra-slim Cortizo sliding doors, complete with bespoke sliding options.
"Park Lane required seven-panel sliders on a four-track system, and four-panel sliders on a four-track system," explained AJ Hassanali, Direct Trade Windows' director. "Because this is not readily available on the market, they'd been severely let down by a previous supplier.
"At Direct Trade Windows, we have a reputation for going the extra mile to help our customers, which is why they turned to us. Thanks to our state-of-the-art, in-house Cad system, our team was able to provide a suitable design and fabrication method, delivering the required bespoke products and winning the trust of Park Lane Developments."
Serving trade installers across the country, Direct Trade Windows manufactures and supplies a wide range of premium products, including Cortizo casement windows, lift-and-slide and vertical sliding windows, and sliding doors. The company also manufactures a wide range of Smart products, including the Alitherm Heritage range, Smart AluSpace interior doors, VS600 aluminium vertical sash windows and Smart EcoFutural commercial windows, as well as Visofold 6000 slim bi-folds.
Direct Trade Windows has additionally invested in state-of-the-art machinery in order to secure reliable and streamlined production. The firm has unique software solutions to provide installers with sales support and infrastructure by sharing both leads and technical support. All this ensures speedy product delivery and reliability.
"Thanks to strategic investment in machinery, we have a reputation for being able to manufacture products that are known for being difficult and time-consuming to make," AJ continued. "It's been a pleasure working with Park Lane Developments. To supply them with products not readily available on the market has been a privilege.
"The build is due to be completed next month, and I very much look forward to seeing the final result, and to working with Park Lane Developments on future projects." For more about Direct Trade Windows, visit directtradewindows.co.uk.