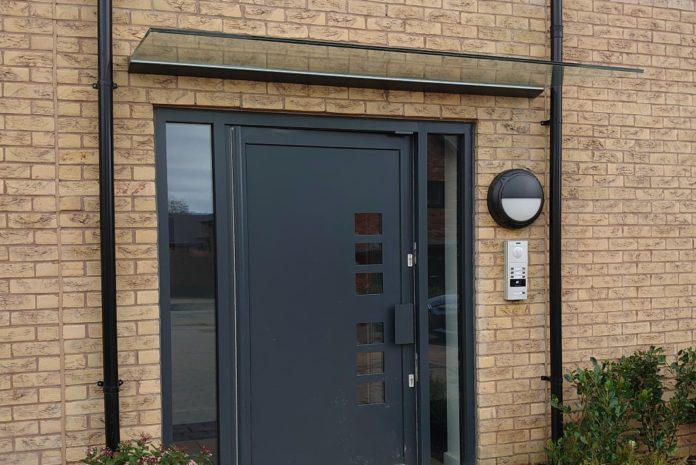 Montane Projects, which specialises in the design, fabrication and supply of aluminium windows, bi-folds, doors and curtain walling, has supplied and installed six of Swisspacer's La Pensilina canopies across apartment blocks at Blythe Valley Park, a Crest Nicholson housing development in Solihull, West Midlands. Swisspacer's La Pensilina glass canopy system was chosen due to its high-quality design and performance.
The canopies needed to be large enough to shelter people coming in and out of the buildings, as well as to provide cover for the access panel and entrance. Reportedly, Montane Projects tried other canopy solutions but struggled to find a system that was strong enough to support the weight of the glass needed. Not only did La Pensilina prove to be the perfect solution for them, Swisspacer provided a quick and efficient service, while offering an option that not only met the size requirements of the project but was weatherproof and stayed fixed in position.
Adrian Locker, owner of Montane Projects, said that he had not come across a canopy system like La Pensilina before – a system that combines simple design and good performance. In Adrian's opinion, the canopy system t is superior to others on the market. He said: "The design is simple and contemporary with minimal amounts of material on show. It is slim and easy to install and, unlike other products, doesn't need lots of support to keep it in place. Installation was straightforward and we received excellent technical support from Swisspacer. The client is very pleased with the outcome.
"We will definitely be using La Pensilina going forward and adding it to our portfolio. It's a great contemporary product that performs well and will fit many requirements."
La Pensilina, an exclusive cantilever glass canopy system, was launched by Swisspacer in 2019. Its stylish and minimalist design, and lack of visible screws, gives the canopy a clean look and 'floating' effect. La Pensilina is load bearing and strong enough to hold a distributed load of 350 kg/m² without breaking.
Swisspacer is well known for producing a range of high-performance warm edge spacer bars, which are designed to reduce heat loss in sealed units and improve energy ratings of windows. John Cooper, Swisspacer's commercial director, said: "We are delighted to hear such positive feedback from our customer Montane Projects and that our product, La Pensilina, was able to exceed the requirements needed for this development in the heart of the West Midlands.
"The system can be easily installed to entrance doors or sliding and patio doors. Its unique and easy-to-maintain design is aimed at outdoor use. La Pensilina is ideal for residential developments, and we hope to see it used in many more homes in the coming months and years."