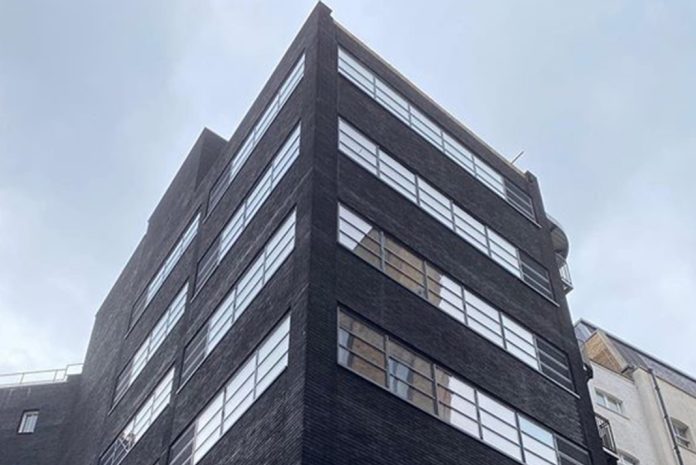 ISO-Chemie's advanced sealing tape has been specified for windows at a new, mixed-use development in central London. The tape provides improved levels of acoustic and energy insulation. The tapes were supplied by JIT Industrial Products, the Motherwell-based independent ISO Chemie stockist. ISO-Chemie is one of Europe's main producers of impregnated foam sealants.
More than 1,000m of ISO BLOCO 600 tape and 300m of BLOCO ONE tape has been installed to support the conversion of unused office space to an upmarket entertainment venue at 6 Grafton Street in Mayfair. The product provides long-term protection against wind-blown rain ingress, and is an effective acoustic and thermal seal. The self-adhesive BLOCO ONE, which uses smart foam technology impregnated with substances to create a U-value as low as 0.6w/m2k, can contribute to acoustic sound reduction by 63dB, as well as offering excellent thermal insulation.
Specified to meet stringent project sealing and quality requirements, the sealant tape is part of a fenestration installation package, which includes Schüco Jansen windows, completed by architectural metalwork engineers, Martec Engineering Ltd. Andy Swift, sales and operations manager for ISO-Chemie, said: "Developers increasingly want smarter ways to deliver their construction and building projects, which use sustainable technologies. Our tapes support this, delivering measurable airtight, acoustic and thermal sealing properties."
Up to 70% cost savings can be achieved using tapes such ISO BLOCO 600, the company says, enabling specifiers and installers to seal windows from inside the building and avoid the need to use time-consuming and costly scaffolding and ladders among other external access systems. The tapes offer a single product 'fit and forget' solution for fast and effective sealing. The product is based around the European RAL principles of three level sealing – the inside seal area is more airtight than the external one, allowing any trapped moisture inside the joint, or within the wall, to escape outwards rather than into the building.