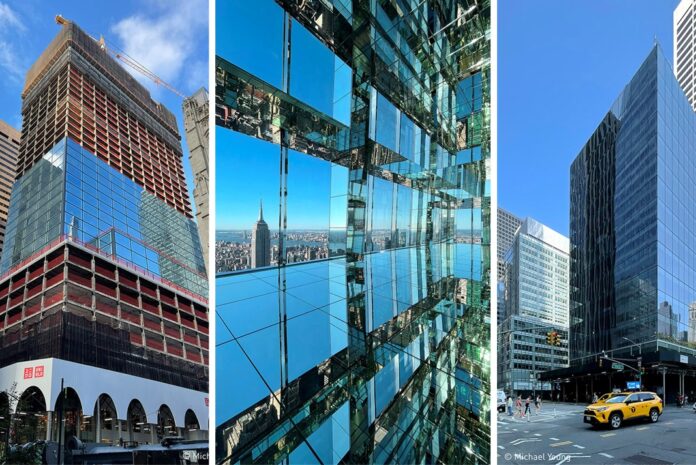 High-performance Super Spacer T-Spacer SG from Edgetech, a subsidiary of Quanex, has helped revitalise three historic features of the New York skyline. 660 Fifth Avenue, Two Bryant Park and Summit at One Vanderbilt have all undergone extensive refurbishment work involving the use of Edgetech technology.
Built in 1957, 660 Fifth Avenue has seen 2,000 panes of glass installed as part of its renovation. This includes around 25,000m² of insulating glass equipped with 20mm T-Spacer SG, supplied by the glass manufacturer AGC Interpane.
Two Bryant Park, built as a six-storey dwelling in 1906 in the Beaux-Arts style, has been extended over the course of a century to 15 storeys. During its recent refurbishment, AGC Interpane supplied 9,000m² of insulating glass, some of it ipasol Platin 46/31 solar glass with high daylight transmission. The 450 tons of insulated glass was manufactured with light grey T-Spacer SG and sealed with grey silicone.
The third project – the 77 storey, 427-metre-tall One Vanderbilt – is the fourth tallest building in New York. AGC Interpane supplied glazing for four floors of the 335-metre-high Summit observation deck, home to a digital art installation, a restaurant and the glazed elevators that rise from the city's Grand Central Station below.
Super Spacer T-Spacer SG is a metal-free, silicone-based warm edge spacer made of structural foam with integrated desiccant that's designed for the toughest commercial applications. On demanding glazing projects using extra-large glass panes, its durable edge seal guarantees decades of exceptional performance and stability, the manufacturer claims.
Chris Alderson, Edgetech's managing director, said: "Edgetech spacers have been used in landmark buildings all around the world. It's hugely gratifying to see our products incorporated in outstanding projects as a permanent part of the New York skyline and, with them, these iconic buildings will go on to offer exceptional performance for decades to come."