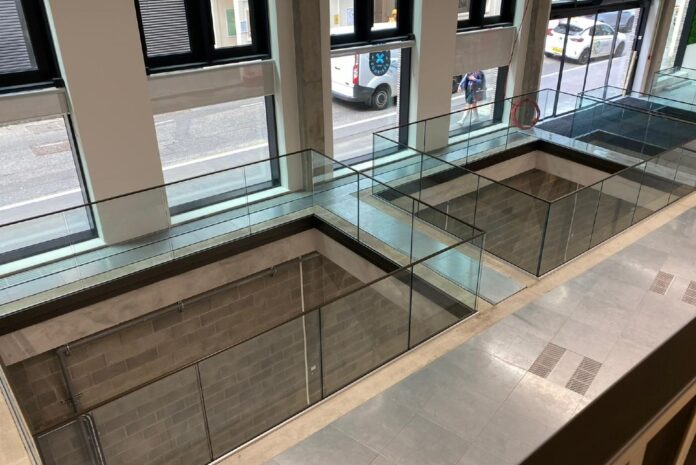 A refurbished office in central London has been given the TuffX treatment, transforming it into a stunning contemporary workplace flooded with natural light and space. Multiple large openings on the office building's ground floor were designed to open up the basement level below. The plans relied on a super-safe and secure specialist glass solution to bring them to fruition – which is where leading toughened glass specialist TuffX stepped in.
TuffX supplied 76 individual panels of 21.5mm toughened and laminated glass, each with polished edges and dubbed corners. Due to the nature of the project, the entire 95m² order of glass was heat soaked, for additional strength and quality, greatly reducing the possibility of unforced breakage and providing added reassurance for the client.
The result was a spectacular, new, stylish and bright office space. Not only was the basement floor transformed, flooded with natural daylight and a feeling of spaciousness, the manufacturer claims, but the refurbishment also created an impressive entrance to the building and a dramatic focal point. Glass balustrades complement the sleek, contemporary concrete and steel interior.
Graham Price, TuffX's managing director, said: "Large spaces require careful consideration when it comes to placing windows, skylights and other openings, in order to maximise light and give the whole area a more comfortable feel for everyone using it. Clever design like this maximises on light and space, but safety is absolutely paramount, which is why our customers call us."