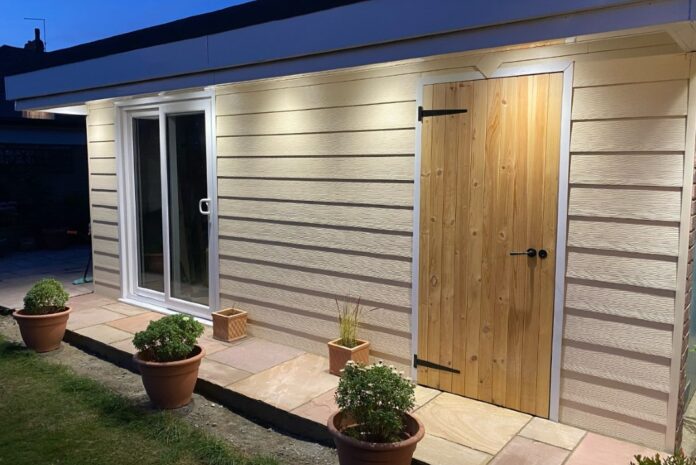 Freefoam products were used to convert a tired, unloved garage into a smart garden room. With a growing number of people now working in a hybrid way – spending part of the week at home – and the subsequent need to maximise both inside and outside space, garden rooms have become a 'must have' for many homeowners. This installation showcases how small changes can make a big difference.
The homeowner had previously used the brick-built garage as a tool store. Having recently retired, they wanted to dispose of the tools, reduce the garage size to maximise the garden area, and make better use of the space. T E Home Improvements used Freefoam Fortex PVC-embossed cladding to completely transform the structure.
One wall was dismantled and rebuilt to create a smaller footprint. The existing roof remained, leaving the position of the new wall to create an attractive overhang feature. A patio door was installed and the entire exterior façade covered in Cappuccino Weatherboard cladding. The new building was internally divided to create a hobby room on one side, and a utility room for a washing machine and freezer on the other.
Terry Emerton, owner of T E Home Improvements, said: "This project has turned out really well. I worked with the homeowner to rebuild and refurbish the garage so that it gave them exactly what they needed. I've used the Fortex cladding before, and knew that it would work really well on this building. One of the critical factors for the owner was the refurbishment had to be low maintenance. We've definitely achieved that, he will only need to give it a quick wipe down a couple of times a year."
The homeowner said:: "We're absolutely loving our new garden room. We're both now able to use the space and all our friends, family and neighbours are amazed at the transformation. It was also good value for money. We've been able to refurbish and upgrade what we already had, rather than having to have something completely new built – much more cost effective."
This case study highlights that the trend to reuse and reconfigure garden spaces is here to stay, according to Freefoam, whose representative went on to say that its cladding range is 'the ideal solution for any garden building and gives installers, like Terry, a ready-made business opportunity'. Terry added: "I've already had enquiries from people who have seen this conversion, and am getting more work for similar structures through my Facebook page. I can only see it increasing."
Louise Sanderson, Freefoam's UK marketing manager, said: "This new case study is great addition to our marketing collateral. We are always on the look out for examples of how our products are used, and this garden room transformation is right on trend. It's useful to illustrate to prospective users how PVC cladding can be used on a wide variety of projects and situations."