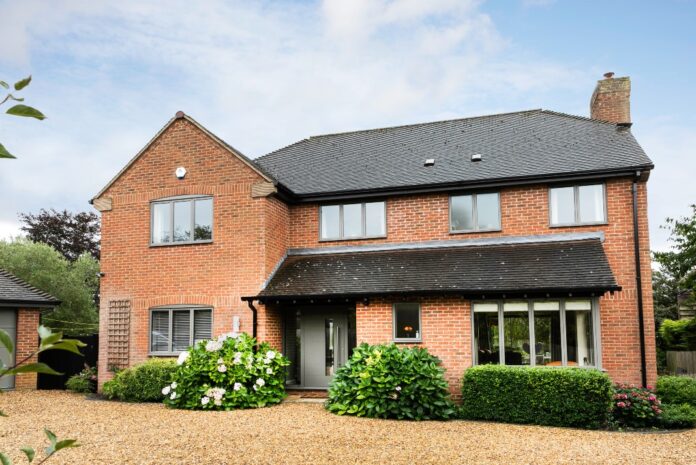 Sheerline aluminium windows and doors is the top choice for one Bedfordshire homeowner, who said he was thrilled by how the intelligently designed aluminium windows have transformed his home. Tyrone Spence recently converted three rooms in his stunning Leighton Buzzard detached property to create a large, open-plan kitchen. He chose Sheerline Classic aluminium windows to create a beautiful, light-filled area, selecting a bespoke colour, RAL 7039 Quartz Grey, to match his newly installed kitchen and create a cohesive, sophisticated look throughout his home.
Like many other homeowners looking for new home improvements, Tyrone researched online and discovered the Sheerline aluminium window and door system via an aluminium trade supply website. He said: "I discovered Sheerline aluminium windows and doors by chance, but after delving deeper into the product specification I was pleased to discover how many unique features set it apart from other aluminium systems. The patented design technologies incorporated across Sheerline Classic gave me the confidence that choosing the system would be a good decision, and I was not disappointed."
Tyrone even drove to see how the aluminium window and door system looked in Donald Trump's golf course in Turnberry, Scotland, where they're installed. He saw for himself how the installed windows worked to create a stylish and contemporary look. Tyrone's windows were supplied by trade fabricator, Garrard Windows, after they put him in touch with one of its Vevo Select Installers, County Glass and Glazing in Aylesbury, a local installer.
Sheerline's window and door systems incorporate a patented corner fixing method, which reduces unsightly misaligned corner joints, leaving windows looking crisp and elegant. Tyrone chose a clean, flush look for his Classic windows, with run through internal mitres.
"We were after something that matched the features of the house, and something a bit different. We're absolutely thrilled with the result," Tyrone said. "The aesthetics, and the way the windows sit cleanly against the brickwork have transformed the entire house."
With Sheerline's Thermlock technology built into every window, Tyrone can look forward to benefiting from improved thermal performance throughout his home. "I'm glad we didn't do it years ago, because if we had, it wouldn't have been Sheerline," he added. "I'm glad we waited! I never thought I'd get excited by windows: maybe a Ferrari or a nice watch, but I'm passionate about windows now!"
Roger Hartshorn, Sheerline's CEO, said: "It's fantastic to hear from happy homeowners. We designed Sheerline with fabricators, installers, and homeowners in mind. So we're delighted to know that Sheerline windows have had such a positive impact on Tyrone's home, with their game-changing thermal efficiency, enhanced security, and spectacular aesthetics.
To learn more about Sheerline, visit sheerline.com or sheerlinevideo.com. You can also call 01332 978000 or email info@sheerline.com. Follow @SheerlineSystem on social media, for the latest news and updates.