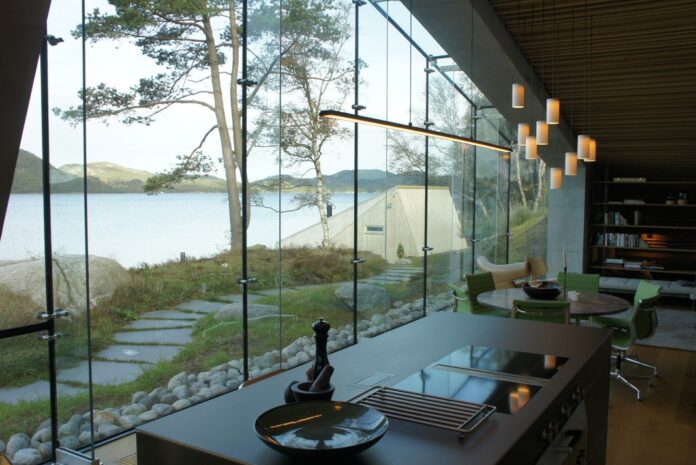 Pilkington's Planar structural glass was used along the outward-facing side of a Norwegian summer house. Architect Per Oscar Haaland explained: "The view is what makes the house, so one of the biggest requirements for the design was to maximise the occupants' ability to enjoy it, all year round. However, the site is very exposed to the weather.
"The location experiences very high wind speeds and low temperatures. So, while we wanted to create the largest possible area of glazing, obviously it was also vital that it would also be very strong, and deliver high levels of thermal insulation. We identified the Pilkington UK product as the best solution, thanks to its ability to create an almost completely unbroken glass surface, its proven structural strength and resilience to weather, and its energy performance."
The wedge-shaped window is more than 10 metres wide, and almost five metres high at its tallest point, creating a panoramic scene of sea and sky. To maximise the vertical aspect of the view – as well as the amount of natural light entering the building – the window is topped by a 90cm-deep section of roof glazing.
The frameless glazing is lent additional strength by a series of 19-mm-thick toughened glass fins that run the whole height of the window. These allow the toughened vertical glass to stand up to significant wind loads while also supporting the roof glazing, which is able to resist large snow loads as a result.
The units that make up the roof glazing also feature a laminated pane to lend further strength, being made up of an outer 12mm layer of toughened glass and an inner layer formed of two 6mm-thick sheets sandwiching a polyvinylbutyral interlayer. The system is bolted together with low-profile stainless steel fittings, and the window is made up of double-glazed units featuring a 16mm wide air cavity.