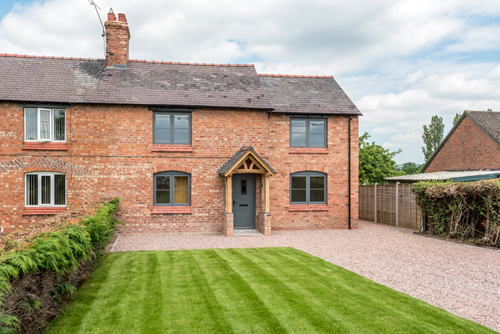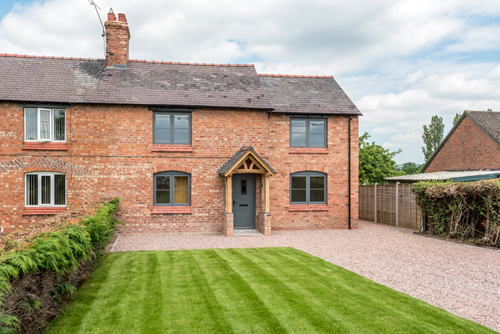 A recent project undertaken by specialist barn and farm building renovator, Cheshire Barns Homes, has incorporated Halo FlushSash PVC-U windows.
Cheshire Barns Homes reportedly has a strong commitment to producing energy efficient homes using traditional farm buildings, a philosophy that is underpinned by the company's founder and director, Rhys Nevett, who has a vision to 'restore buildings with heritage to create sustainable luxury, and a desire for absolute perfection'.
The traditional style of the properties renovated must be considered against the requirements of the Building Regulations and desire of the new owners for 'modern comfort and performance', a balance that, according to Cheshire Barns Homes, can be difficult to achieve.
Nottingham based Fearns of Carlton were chosen by the developer to supply eight Halo FlashSash windows, in balsalt grey on white, for a semi-detached property in a rural location, after reportedly being impressed with the 'authentic appearance' of the frames, combined with the 'exceptional performance'. The colour was selected from the range of 29 foils available on this traditionally styled window, with the frames manufactured by Glazerite UK Group at the company's Peterborough factory.
Rhys Nevett of Cheshire Barns Homes says he is committed to maintaining the traditional appearance of the properties he renovates and was impressed with the Halo FlushSash windows chosen for this project: "We are usually committed to genuine timber windows but when we saw the Halo window and learned of the energy efficiency that it could bring to the project, we had no hesitation in specifying it. The windows provide an impressive authentic appearance that is in keeping with this project."
Jak Fearn of Fearns of Carlton said: "Many of the projects I work on are with timber sash windows as they are listed buildings. Fortunately, this project wasn't listed so it gave the developer and us the opportunity to specify the Halo FlushSash. It not only looks great but offers an 'A' rating which is fantastic for a traditional property."
Chris Thompson, of Glazerite, said: "There is nothing I love more than to get a timber window installer onto PVC-U. We have also had a number of installations approved and passed by building control in conservation and listed buildings so even if a property is in such an area, the installation of windows manufactured in modern materials should not be ruled out."