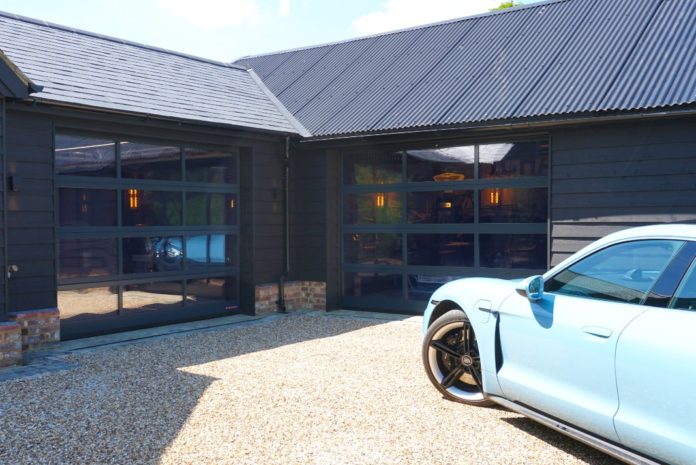 With an extensive sports car collection to house, the creation of a luxury garage has been made all the more eye-catching with the installation of fully glazed garage doors, supplied by Hörmann UK. The construction of the garage was carried out by APM Design and Build, working alongside Nailormade Interior Design, which chose the Hörmann ALR F42 doors for the product's modern design aesthetic, lightweight construction and German-build quality.
The garage, part of a beautiful residential property in rural Ashridge Hertfordshire, has been transformed from an existing building and can house up to six cars. Nailormade specified the ALR F42 Hörmann doors for quality and performance, alongside their ability to provide a creative solution. The doors are constructed from a lightweight-yet-strong aluminium framework, with large glazing panels. This style is typically used in commercial car showrooms, as continuous window sections offer an unimpeded view. For this project, displaying the cars was of prime importance to the client.
The three, fully automated 3000x2165mm doors were fitted with scratch-resistant Duratec synthetic glazing, which supplies a permanently clear view. Duratec, a surface coating, protects panes from scratches and damage caused by cleaning over the long term. The anthracite grey glazing panels coordinate and compliment the other materials used in the renovation, and help complete an impressive building.
Colin Naylor, of Nailormade Interior Design, said: "I specified the Hörmann ALR F42 garage doors because of the company's well-known reputation for high-quality, high-performance doors. This, together with the overall aesthetic of the product made them perfect for such a prestigious project and provided the ideal visual solution for the client." For information about Hörmann UK's doors, visit hormann.co.uk or call 01530 516 868.