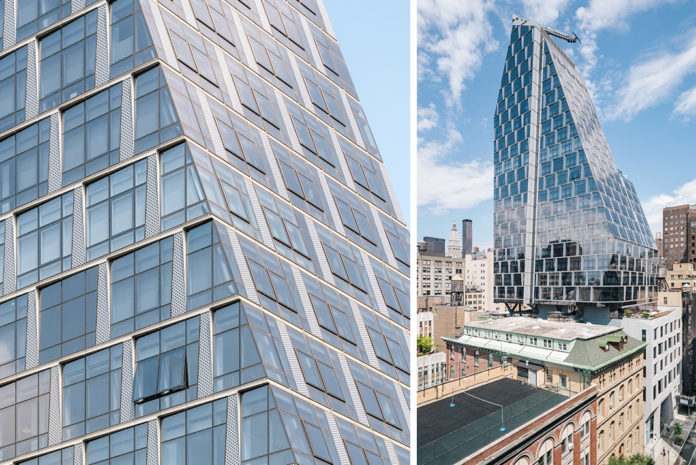 Wicona's Wictec EL SG modular system has been used to produce the sloping glass facade of the 35XV building in Manhattan. The high-performance unitised system is said to have provided ease of installation, energy efficiency and helped maximise natural light for the building's luxury apartments.
The 35XV building, designed by FXCollaborative Architects, is located in the Chelsea neighbourhood of downtown Manhattan. The building is a combination of residential and educational spaces with the first six storeys serving as an extension of the neighbouring Xavier High School. The top 19 floors represent the residential part of the building and contains 55 luxury one, two, three- and four-bedroom apartments as well as a gym, children's play area and a communal terrace on the seventh floor. The structure also cantilevers 5m over the existing school building and 11m over the rear patio.
The angled shape of the building's facade is a result of New York's 100-year-old Zoning Resolution, which requires the upper floors of buildings to be set back, creating a virtual sloping 'sky exposure plane'. This requirement is designed to ensure that tall structures do not excessively block sunlight from reaching street level. A common approach to complying with this is to create a series of set-backs as the floors rise, however for 35XV the sky exposure plane was used to create the shape of the building. The glass of the angled facade is also designed to reflect the sky and helps to make the building less conspicuous.
According to Wicona, its Wictec EL SG modular system was chosen as it combined the 'minimalist aesthetic of a stick-built system with the quality, performance and installation benefits of a unitised solution'. The Wicona Wictec EL SG also allows large glazed areas to be created to maximise the natural light and views for the occupants of the apartments.
The units were assembled and sealed in a factory environment, ensuring a high level of quality was maintained and speeding up installation on site. The Wictec modules feature a triple gasket system designed to guarantee air tightness and thermal insulation. The modules were delivered to site, craned into place and installed on pre-aligned 3D adjustment anchors. One particular challenge of constructing the facade was the corners due to the need to connect planes at different angles. A complex system to join the aluminium profiles was created based on a 3D model developed for this purpose.
The project has received a number of awards including the Council on Tall Buildings and Urban Habitat's (CTBUH) Best Tall Building Americas-Award of Excellence, The Merit Award for Architecture from The American Institute of Architects – New York (AIANY) and the American Architecture Award 2018 from the Chicago Athenaeum.