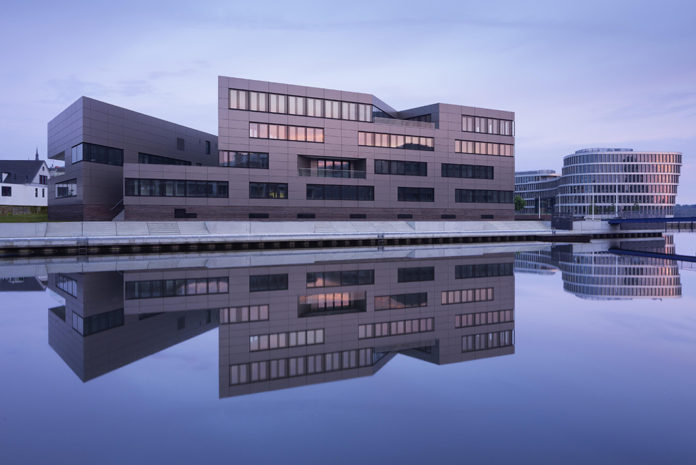 Centogene AG has built a new research centre for the genetic diagnosis of rare hereditary diseases in Rostock, Germany. A number of different types of glass were used for the glazing and Swisspacer warm edge spacer bars were reportedly specified for the glazed units for improved heat loss and energy efficiency within the building.
The construction of the 'CentoNew' headquarters in the Silo Peninsula, Rostock, will have space for approximately 250 employees and was designed by architects Gewers Pudewill Berlin with an irregular pentagonal outline. It has underground parking and four above-ground floors with staggered building structures. The ground floor is located on a podium, with several open staircases leading to it.
Saint-Gobain Glassolutions supplied approximately 2,500m2 of glass for the project. The Rostock site used around 900m2 of high-quality heat insulating glass Climatop XN (triple)
and Swisspacer Advance warm edge spacer bar. Stadip laminated safety glass was also used. The Glassolutions Flensburg site manufactured the laminated safety glass (LSG) for the project. Special structures and insulating glass, some with additional heat thermal and sound insulation, came from the Potsdam site.
Swisspacer claims that its Advance warm edge spacer bar has the best price/performance ratio in the market and that the rigid structure of Swisspacer creates 'precise edges' and 'clean, crisp parallel lines' for a high-quality, aesthetically pleasing finish which is ideal for triple glazing.
Depending on frame construction, Swisspacer says that Advance achieves Psi values of up to 0.037 W/mK.