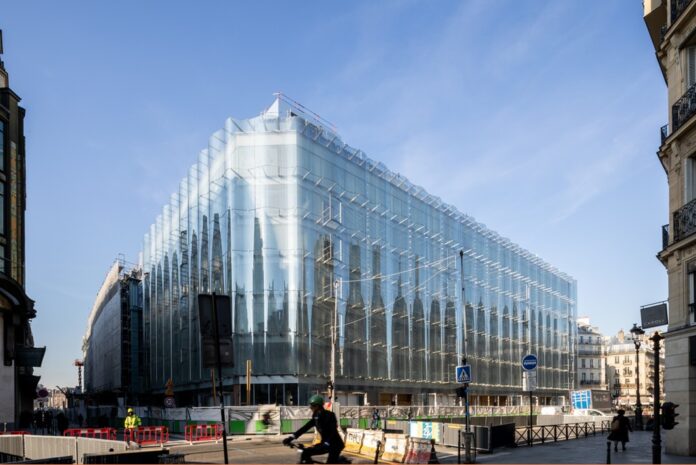 La Samaritaine, one of Paris' most famous department stores, has worked closely with Pritzker-prize-winning architecture practice, SANAA, to create a striking and sinuous modern façade. Glass for the project was supplied by Pilkington Glass Service, part of the NSG Group.
The façade is part of a wider €750m renovation of the landmark site, in a bid to create a world-leading luxury retail, entertainment and hospitality hub. SANAA worked with curved glass specialist Cricursa and glazing engineers Frener and Reiferm to design and deliver the façade, which is made from 343 individual curved and laminated panels.
The panes come in 23 different shapes and sizes across the façade, and weigh between 600 and 1250 kg. Despite their weight, they are each held in place by just four stainless steel fixings, in order to achieve the minimal, flush profile the architect was looking for.
Outstanding clarity
According to those involved in promoting the poject, the building's curves provide passersby with intriguing and ever-changing new perspectives on the much-loved surrounding architecture of the Rue de Rivoli, one of Paris' most famous and celebrated streets. The effect is heightened by a reflective chromium coating that was applied before the glass was laminated.
To ensure that the reflections visible in the façade were free from any colour from the glass, and to enhance outward views for occupants of the building, Pilkington Optiwhite low-iron glass was specified. Marc Amah, technical manager at Pilkington Glass Service, said: "Glass has been used on this project not only to define the building itself but also to give an exciting new perspective on the heritage architecture that surrounds it.
"La Samaritaine showcases the benefits of Pilkington Optiwhite – with its extraordinary clarity and natural colour balance – in one of the world's most glamorous and architecturally rich locations." Curved glass specialist Cricursa has helped deliver some of the most iconic glazed buildings of recent years, including One Blackfriars in London, the Emporia shopping mall in Malmö, Sweden, and the Thomas Heatherwick-designed Bombay sapphire gin distillery in Hampshire, UK.