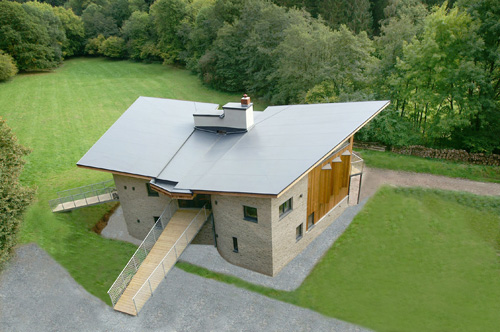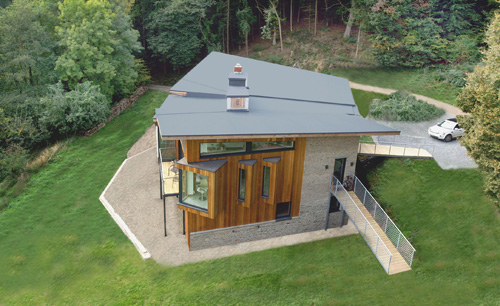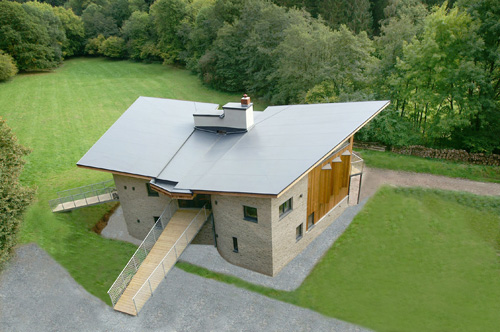 Roof Assured by Sarnafil has installed a new self-adhered roof membrane on a 'dream' self-build home.
A main feature of the project is the 270m2 overhanging wing-shaped roof.
Allen Green and his wife Jan, who have lived in Hereford since 1984, were originally looking for a retirement home, 'with a little bit of land', to be enjoyed by their children and grandchildren. Their search has ended with an impressive, architecturally styled oak frame, self build, red cedar and stone clad home set in 14 acres of woodland.
The Greens bought the land at auction not knowing at the time that it was in the centre of an area of geological interest and home to over 600 species of moths and butterflies. Preserving the integrity of the area has been important to Allen and Jan as enjoying their natural surroundings is a big part of their retirement plan.
The project has included building a barn, putting in a new steel bridge for access and preserving two original stone cottages.
Allen said: "Our original plan was to rebuild and extend the original old stone cottage but this proved to be impractical, so we were then looking at taking on this much larger new build but retaining the heritage of the old cottage. It has been very satisfying seeing the new building emerging while the old cottage sits quietly and gently in the background. This blend of old and new has been important to us throughout this project. "
The 'dipping and rising' aesthetic of the roof is said to complement the surrounding undulating woodland.
"We were originally looking at a zinc roof but the complexities of the structure would have made ventilation very difficult. I liked the idea of using a single ply roofing membrane because we wanted a high performance, low maintenance, flexible, agile solution," continued Allen.
His research led him to Sarnafil. It was the company's Swiss heritage and the fact that some of their earliest roofs are now over 50 years old that proved an attractive proposition.
Alan said: "The Sarnafil credentials were very reassuring. I felt that I could relax and worry less because it's Swiss and you associate that with high quality, high performance brands."
Allen then contacted Kevin Hodge, managing director of County Flat Roofing (UK), a Roof Assured, Sarnafil registered installer, based in Weston Super Mare, who has over 20 years' experience installing the Sarnafil membrane on commercial and domestic projects.
"This has been an exciting project," said Kevin. "This is the first installation in the UK using the new lead grey self-adhesive Sarnafil membrane, developed and manufactured by Sika Sarnafil in Switzerland. The ease of application, flexibility and accessibility of the new membrane has allowed us scope to meet the complexities of this unusual roof design."
The system was installed using Sarnafil G410-15ELF SA self-adhesive lead grey membrane with an integral self-adhesive 300g/m² polyester fleece as the main roof sheet with Sarnafil G410-15EL lead grey for all detail work flashings. The plywood deck was primed using Sarnafil 600 primer, with the build up covered by a 15-year Sarnafil, insurance backed product guarantee. The Sarnafil membrane is one of the only membranes on the market that comes in a 2.5 m roll making installation even more efficient and cost effective.
If you are interested in becoming a Roof Assured by Sarnafil registered installer visit www.roofassured.co.uk/installer