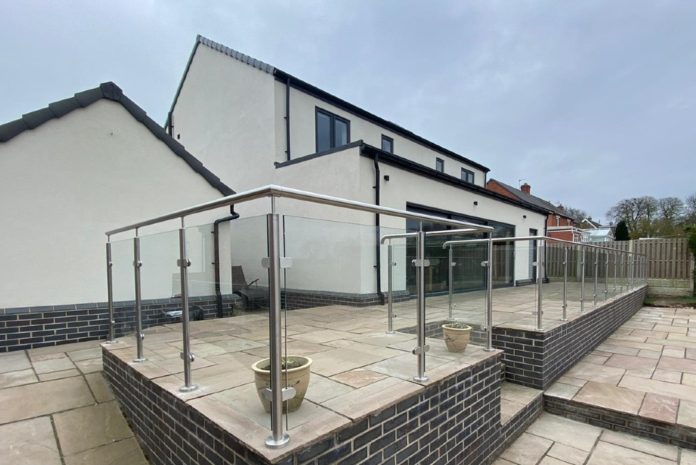 Toughened glass supplied by TuffX has been used in a solution provided to a customer in Leeds that required an unobtrusive product for a large, split-level terrace. The detached property was finished in stylish light rendering with contrasting dark window frames, including expansive glass sliding doors across the rear. The doors open onto the split-level terrace on to the grounds beyond. Occupants can now enjoy the terrace safely, without compromising on the stunning views enjoyed from both inside and outside the property.
Leading specialist glass manufacturer, TuffX, was chosen to supply 20m² of 10mm toughened safety glass with dubbed corners. TuffX had worked with the installer previously, and was chosen for its proven track record for producing quality glass, and for its reliable delivery service.
Once in place, the glass panels were topped with a stainless steel handrail. In addition to being safe and unimposing, the finished balustrade helps protects occupants from the elements. As the product is reportedly low maintenance, the installers hope that the homeowners will be able to enjoy the maximum benefits of their terrace with minimal upkeep, year after year.
"Our glass solutions are perfect for this kind of job – toughened safety glass that will just quietly do its job day in, day out," said Graham Price, TuffX's managing director. "With TuffX, we make the whole process fuss-free. From ordering through to delivery, we'll keep you up to date on the progress of your order, and we're always available at the end of the phone."