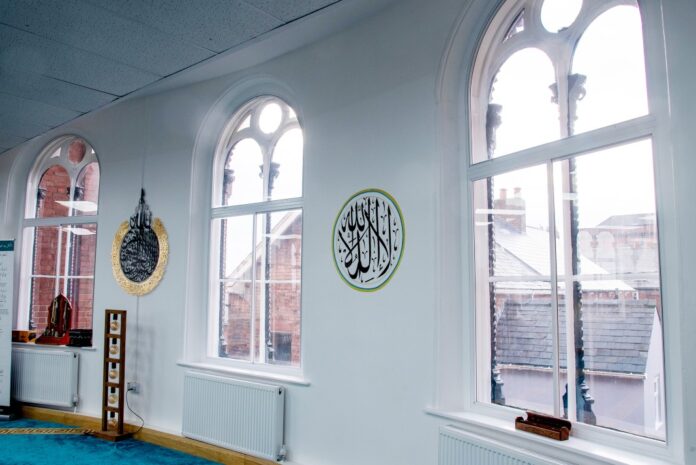 Granada Glazing's secondary glazing system has delivered a significant saving in energy costs for a North Derbyshire welfare centre, reducing heating needs by two thirds. The installation has also eliminated external noise intrusion.
All the windows at the Muslim Welfare Association's Grade-II-listed building in Chesterfield are original and single-glazed, which provided little thermal insulation for users of the facility and allowed noise from a neighbouring factory to enter the rooms. The building's owner contacted Bakewell-based Brocklehurst Property Maintenance, one of Granada Glazing's trade partners to discuss options, suitable treatments and fitting a total of 59 units.
A combination of horizontal sliding units and arched units were installed. All have Low-E glass with a special coating that reflects heat back into the rooms, as the main aim was to make the building warmer. Some windows feature an arched unit stacked over a horizontal sliding unit, while others were treated with two horizontal sliding units: one above the other.
Superior thermal insulation provided by quality secondary glazing reduces heat loss by up to 70%, according to the Granada Secondary Glazing team. Far less expensive than full window replacement, secondary glazing is often the only option to improve thermal efficiency in historic or listed properties, they say.
Duncan Brocklehurst, managing director of the conservation and renovation firm Brocklehurst Property Maintenance, said: "We were approached initially by the property owner to help keep the building warm in the face of rising energy bills. The building is listed and its old, steel windows were simply not performing either thermally or acoustically. In addition to the issues around heat retention, the customer was also experiencing excessive levels of external noise from a nearby factory, which proved particularly challenging during prayer sessions.
"The products that Granada supplied have ultimately helped to rectify both issues. The factory noise is now not noticeable at all, and the customer is able to run their heating for just one third the amount of time they were previously. It's been a massive financial saving."
Ellen Dawson, Granada Secondary Glazing's trade sales office manager, added: "Given the requirements from a thermal perspective, we opted for a 4mm toughened, Low-E glazing solution that would drastically improve the building's heat retentive properties. Where possible, we specified bespoke, arched units to match the primary windows exactly. Where this wasn't possible, we instead stacked horizontal units on top of one another.
"Our entire suite of products offers incredible thermal and acoustic performance. It's fantastic to hear that the customer has been reaping the benefits of the install so quickly."
Marketed as suitable for all property types, Granada's slimline aluminium secondary glazing frames can be powder coated in more than 200 RAL colours. Virtually invisible, they are sent to blend in with any interior décor. The Granada Glazing product range encompasses hinged, sliding and vertical sliding options, including tilt-back and lift-out variants. Full training and marketing support is available to installers across the UK.
For more information about adding the Granada Secondary Glazing range to your business, call 01909 499 899 or visit gsecg.com. Alternatively, email info@granadaglazing.com.