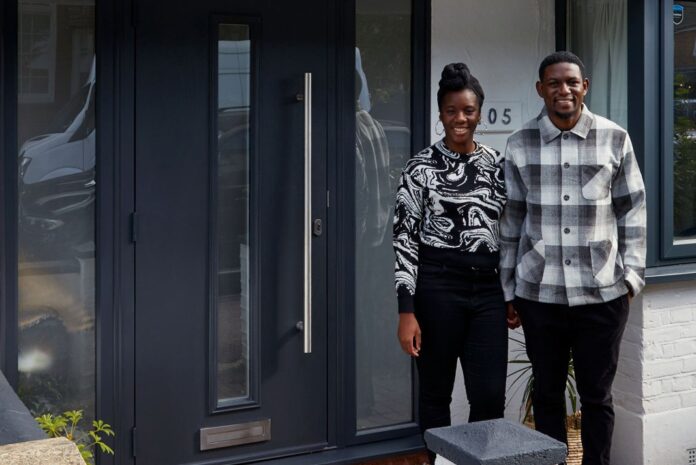 Products from Endurance Doors have contributed to a property renovation programme on primetime TV: Channel 4's Worst House on the Street. The six-part series addresses whether always buying the worst house on the best street is an effective way of maximising investment returns. Fronted by sibling property developers, Stuart and Scarlette Douglas, the show sees the duo using their expertise to offer families advice on how to transform rundown properties into their dream homes without breaking the bank.
Endurance Doors' products featured in an episode that first aired last August, which focused on newlyweds Harry and Yimika. The professional couple are in their 20s and had bought their first home in Croydon, south London.
Located in the highly-sought-after area of Purley, the three-bedroom, 1930s, mid-terrace house was outdated and had been neglected for years. Having bought the property for £415,000, Harry and Yimika had a remaining budget of £40,000 to carry out some much-needed repair and modernisation work.
Given their finite budget and a project timeline of six weeks, it was essential that the couple carefully considered what renovations they would and wouldn't make. Any changes had to have a positive impact on the overall value of the property. Prioritising was essential to keep the project on track and on budget.
From the outset, Yimika wanted to add a porch to the front of the house. The TV show's hosts supported this idea, advising that it could improve the house's security, energy efficiency and space utilisation. The hosts also explained that improving the façade of a house to give it greater kerb appeal and a more welcoming feel can increase the price of a property by as much as 2%.
To ensure that their new porch had the fresh and contemporary look that the new owners wanted, Harry and Yimika opted for a composite door from the Endurance Doors' Urban collection. This range of doors includes 10 modern designs that are suited to both contemporary and traditional properties.
The specific option chosen was a Pen style door with an 1200mm pull handle and double sidelights. The couple decided on a door and frame in anthracite grey, to create a chic pop of colour against the house's brilliant white exterior and to match their recently resprayed PVC-U window frames. The door and wider porch were installed by a team from Endurance Doors.
Upon completion of the transformation, Harry and Yimika were praised by the show's hosts, as well as their new neighbours, for creating a stylish, on-trend family home. The real measure of their success however came in the subsequent valuations; the updated property was valued at between £485,000 and £500,000: a 7 to 10% increase on the original purchase price.
Stephen Nadin, managing director of Endurance Doors, said: "We are delighted that one of our Pen doors featured on the Worst House on the Street. Given that the episode aired at 8pm on a Tuesday evening and on Channel 4, the UK's second most popular TV channel, it was great exposure for the brand. The episode also highlighted the tangible difference that an attractive exterior – including the front door, which is usually the focal point – can have on the overall value of a property."