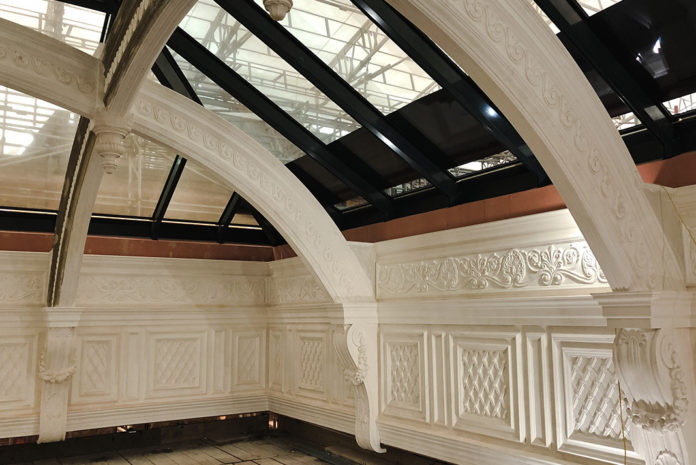 The British Academy of Film and Television Arts (Bafta) has installed 82 dynamic liquid crystal windows to glaze two restored Victorian rooflights. Bafta's partnership with dynamic glass specialist Eyrise has provided instant solar shading for its newly constructed top floor at its Grade-II-listed headquarters in London. The project involved installing 27 tonnes of liquid crystal glass of varying shapes and sizes into the restored and raised Victorian rooflights. See below for video of the glass being installed.
Proprietary Licrivision liquid crystal technology enables Eyrise glass to be tinted to provide instant solar shading without compromising on natural daylight. The windows also help reduce energy consumption.
"New technologies are helping us transform and grow the infrastructure of our headquarters which in turn will enable us to expand our important work in supporting emerging and under-represented talent," said Kevin Price, Bafta's chief operating officer. "By raising the roof and re-integrating the rooflights with Eyrise's innovative glazing, we are able to open up a bright new space and deliver a greater variety of initiatives, learning events and activities."
The refurbishment revealed one of the hidden rooflights, built in 1883, for the first time since 1975 when it was covered to create a dark space for a 227-seat cinema. Designed by Benedetti Architects, Bafta's redevelopment work is scheduled for completion this autumn.
Photograph: ©BAFTA/Laura Kloss
Video: courtesy of Knight Harwood