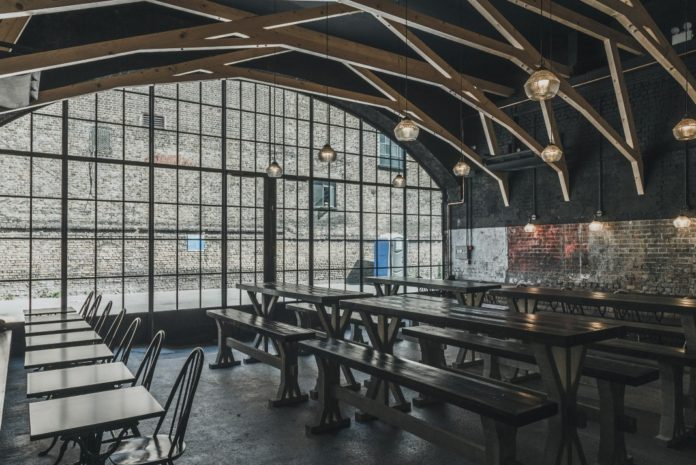 A London brewery was given the steel star treatment, thanks to Steel Window Services and Supplies, a business that is a member of the Steel Window Association. The project saw the installation of large, double-height, metal-framed glazing, and W20 arched, headed external screens, along with interior doors and screens. Over 80 days, the company supplied and fitted large entrance screens, two external screens at the rear of the building, four internal doors and one internal double door set.
The property that is now Hackney Church Brew Co – a brewery, shop and bar – formerly housed garages within the Victorian railway arches. Nowadays, locals and tourists alike can enjoy the authentic brewery's ambience and experience.
"We source as many of our ingredients for our drinks and our food as we can from within walking distance of the brewery and we don't do, or serve, anything unless we can do it as best we can. The result, we think you'll agree, is a space unlike anywhere else in London." – Hackney Church Brew Co.
The W20 suite features an industrial patina finish, which offers a stunning urban aesthetic, echoing the building's heritage whilst also reflecting the nature of this vibrant, fashionable part of London. Silicone fronted glazing replicates the authentic look and feel of traditional steel windows.
"Set within two, large Victorian brick arches near Hackney Central, this project involved the installation of a large brewery in one arch and a dispense bar and kitchen in the other," said Lucas Che Tizard, founder director of the creative workshop Red Deer, which provided architects for the project. "Set up in affiliation with St John at Hackney Church, the design took stimulus from the industrial process of brewing and the physical aspects of the church.
"Large, double-height, metal-framed glazing was thus installed, to create an ethereal yet industrial aesthetic for the façade. Sizable solid timber trusses were then installed to mimic traditional church construction techniques."
For more information about the Steel Window Association, visit www.steel-window-association.co.uk or call 0203 475 8049.