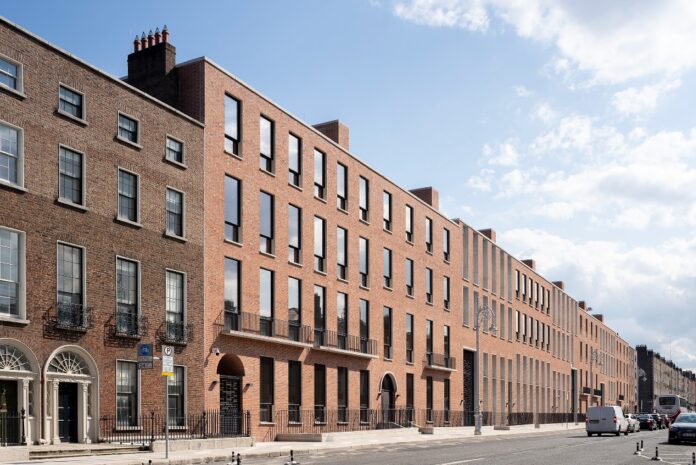 A team from KCC Group delivered glazing solutions for an office development on Fitzwilliam Street Lower, Dublin, last year. The project features Pyroguard Protect fire safety glass and the minimalistic Jansen steel framing profile.
'Project Fitzwilliam' in Dublin has captured the attention of many in the architecture and design world, we have been told. The project involved the restoration and redevelopment of protected Georgian structures for ESB, the Irish state energy company, in order to reinstate the traditional Georgian streetscape that is now the longest and uninterrupted of its kind in Europe.
The 45,000m² development involved the construction of a new, seven-storey office block, designed by Grafton Architects and O'Mahony Pike. A team from KCC Group has worked closely with the architects, design teams, contractors and client to deliver a range of glazing solutions for the project. One of those was the design and installation of fire-rated internal doors and screens in the lift and entrance lobbies on each floor, as a means of compartmentation that provides up to 90 minutes fire performance.
Compartmentation is a key part of a passive fire protection strategy and involves splitting a building into a series of fire-safe compartments. This not only helps to control the spread of a blaze but also creates a safe means of escape for occupants and safe access for emergency services in the unfortunate event of a fire.
Carefully balancing safety with aesthetics, a combination of Pyroguard Protect fire safety glass in classifications EI60 and EI90 were specified alongside Jansen's steel system for doorsets and screens, providing 60 and 90 minutes fire performance respectively.
"Working with both Jansen and Pyroguard, these glazing systems and screens were designed not only for their minimalistic aesthetic and ability to allow maximum light into the interior space but more importantly to comply with the fire strategy of the building," said David Skelly, a director of KCC Group.
"Pyroguard Protect fire safety glass enabled the creation of fire safe compartments on each floor and lobby, ensuring the protection of future building occupants."
As well as fire protection, Pyroguard's products can also offer a range of other qualities, which proved valuable on this project, as Andy Lake, sales director UK and IRE for Pyroguard, explained: "By combining our technical knowledge and the multi-functional capabilities of our fire safety glass, we were able to offer KCC Group a solution that also delivered high-performance impact resistance and acoustic properties – two qualities which are vital when you consider the application being central lobbies within a busy office space."
Pyroguard Protect is a range of toughened fire safety glass suitable for both internal and external applications, offering integrity and heat insulation from 30 to 120 minutes (EW classification) and 30 to 180 minutes (EI classification). The glass can also provide a 1B1 impact rating, high-performance acoustics and excellent UV stability. Read more about the product online at pyroguard.eu.