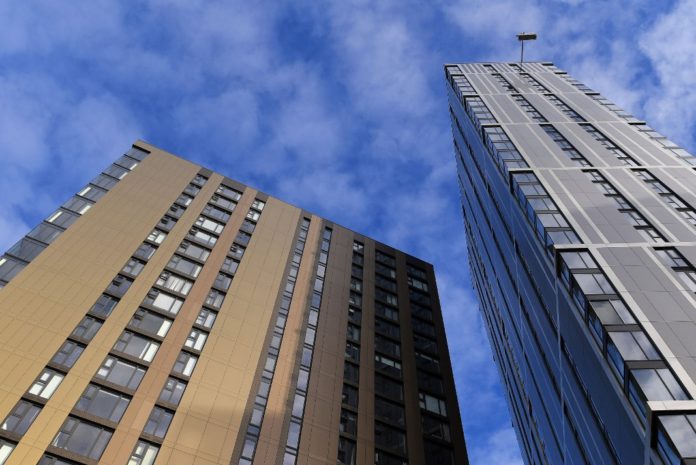 Glazed elements were key to this high performance building project in Birmingham, which used façade products manufactured by Kawneer. The products were specified to handle the challenging wind loads on Birmingham's tallest exclusively residential tower block: the 33-storey, £30m Left Bank Two tower.
"The Kawneer glazed elements are a significant element with the façade design and assisted with the aesthetic detailing required," explained Sophie Casewell, marketing coordinator for Glancy Nicholls Architects, which specified the façade products. "The glass-to-glass corners maximise daylighting and views across the city, and were a big selling point."
The project made use of Kawneer's AA100 curtain walling, AA720 top-hung ventilator windows on the first to top floors, and AA190 TB entrance doors on the ground floor. "We specified the Kawneer systems for their system performance," added Sophie. "The aesthetics of the system also delivered upon the desired design intent."
Left Bank Two is the second tower within The Bank area to feature Kawneer's aluminium systems. Funded by real estate investment company, Aprirose, Left Bank Two comprises 217 luxury one- to three-bedroomed apartments. Each has a private gym, residents' lounge and coffee bar, private kitchen and dining room, on-site cycle storage and secure and private outdoor green space.
Featuring 3,580ft² of ground-floor retail space, it is one of only two residential skyscrapers in the city to measure over 100 metres tall. Left Bank One is 21 storeys and features Kawneer's thermally superior AA®720 windows.
"The client has been very satisfied with the product, with over 70% of the apartments sold by building completion. The glass-to-glass corner windows and the aluminium material assisted in achieving the client's sustainable target deliverables."
The Kawneer systems were installed over 18 months by a team of eight operatives from Kawneer-approved specialist subcontractor APiC UK. The same team installed the Kawneer windows for Left Bank One.