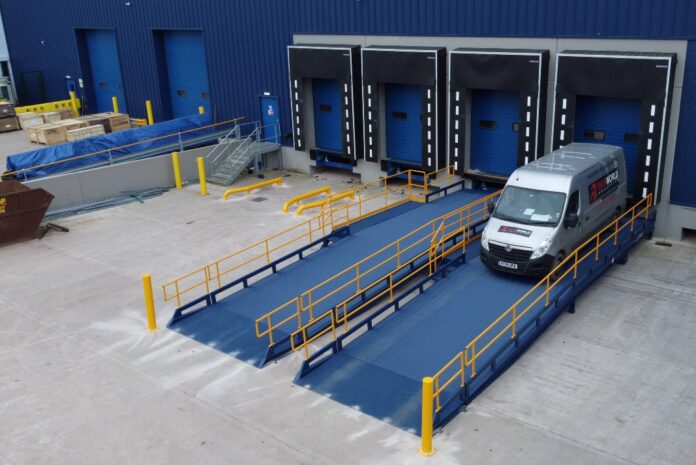 A team has installed two van docking ramps at the Solidor facility in Stoke-on-Trent. The installation has resulted in improvements to both the safety and efficiency of loading operations, according to composite door manufacturer's representatives, thanks to products supplied by Thorworld Industries.
During the design phase of the Stoke facility, the Solidor team had specified adjustable dock levellers from another manufacturer. But after moving into the premises last June, the team found that dock levellers were unsuitable for the vans used by the company's logistics partners.
"Our original loading dock design didn't consider the array of different vehicle sizes we use, which left us with significant ergonomic and safety issues for our loading operations," said Neil Bancroft, Solidor's operations director. "Safety is our number one priority at Solidor. We needed a new solution that both met our high standards and allowed us to fully utilise our loading infrastructure."
Specialists from Thorworld's dealer business, Loading Bay Service, designed and installed a solution. This consisted of two mobile van ramps with additional safety features such as Bimagrip Antislip coating, expanded metal decking and side access platforms.
Solidor's drivers were involved in the selection and design phase of the project, providing vital feedback to ensure the most user-friendly solution, the company's representatives have said.
The van loading ramps were also supplied in non-standard Saffire Blue (RAL 5003) paint. The products allow vans to reverse directly to the facility loading bay.
"We needed a robust turnkey solution and Thorworld was a local company that could do just that," added Neil. "The technical information, speed of delivery and expert advice provided was excellent. We're really pleased with the level of service provided.
"The feedback from the drivers has been really positive, the new ramps are suitable for all our vehicle sizes and the safety risk has been eliminated."
Warren Craig, director of Loading Bay Service, said: "This was a great project and we're always happy to receive positive feedback from the people who use our solutions every day.
"Van ramp solutions such as this are becoming more common as businesses loading operations adapt to the rapidly changing logistics environment."