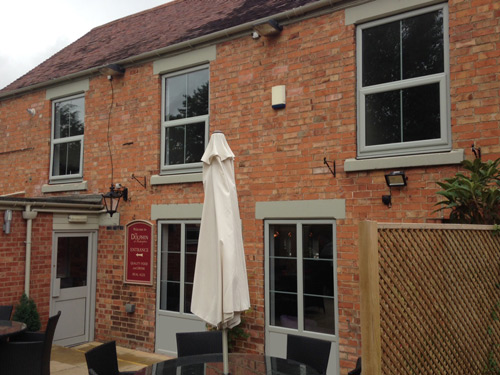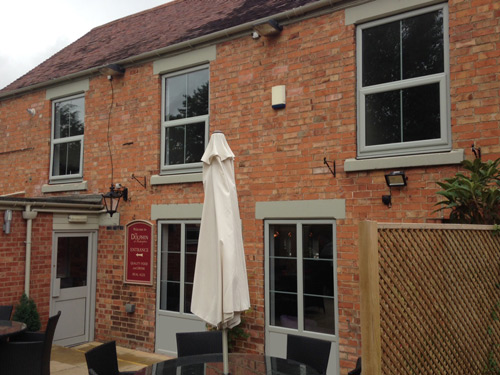 A Worcestershire Parish Council has called in the services of Veka Approved Installer, Northfield Glass Centre, to update the windows at picturesque country pub, The Dolphin at Bishampton.
The village's residents obtained a government loan to buy the pub when it came up for sale in 2013, fearing the loss of an important part of their community.
"It was clear to see the pride that local people had in the pub," explained Northfield Glass' managing director, Fred Atkinson. "It was very important to the Parish Council that the replacement windows were stylistically true to a building of its era and that the original grey colour of the old timber frames was maintained.
"Everyone was impressed with Veka's fully sculptured casement and vertical sliding windows. Georgian bars and sash horns helped to complete the period look, and the agate grey shade from Veka's Variations colour range was a near-direct match for the original windows. All in all, it combined to give the building a really inviting appearance – essential in a good pub!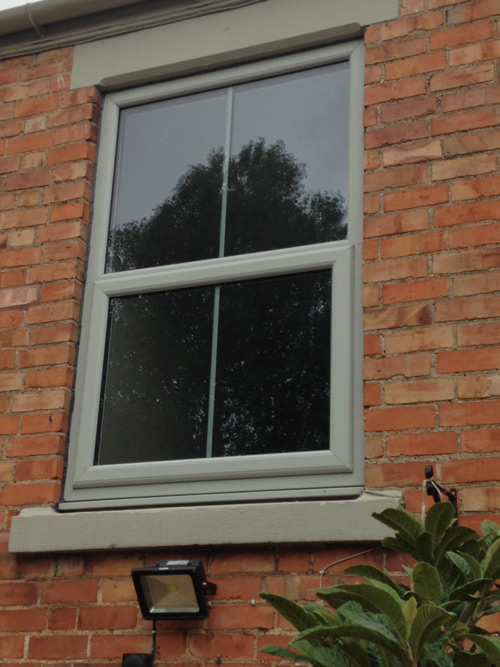 "Obviously, one of the main benefits of installing PVC-U windows is their longevity. The old timber frames that came out of the pub had perished significantly – an inevitable symptom of using wood unless regular, costly and time-consuming maintenance is carried out. PVC-U offers modern day standards of weather and noise insulation too, so it's easy to see why many are choosing this option to update heritage and period properties."
Rodney Hodgkins, chairman of the Bishampton and Throckmoreton Parish Council commented: "We're thrilled to see The Dolphin returning to its former glory with the installation of these new windows. Not only do the new PVC-U frames complement the heritage look of the building perfectly but it's warmer and there's less road noise – important factors for the many visitors that come for the renowned food it serves.
"Fred and the team at Northfield Glass did a great job and we'd have no hesitation in recommending them, and Veka's products to others. The fitters arrived on time, worked with unsurpassed levels of cleanliness and tidiness and, what's more, Lee – the landlord – was still able to run the pub without their work intruding. No wonder so many villagers have taken the business cards they left!
"The fact that Northfield Glass is a Veka Approved Installer also gave us the peace of mind that we're dealing with a reputable company who meet all the legal requirements, such as supplying CE marked products."