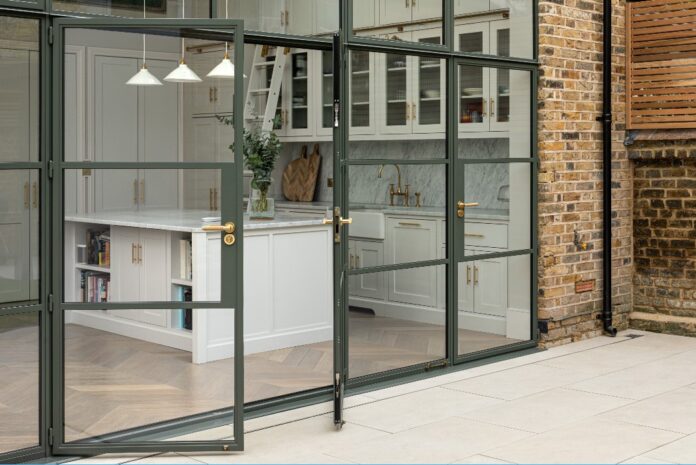 A Steel Window Association (SWA) member company created a large, elegant screen to form the end wall of a new kitchen and dining room for a private residence in London's Wandsworth borough. Perla Windows worked in close cooperation with building contractor TA Prestige Construction and the client's architect, MAP Architecture, to design, manufacture and install the 5.5 metre-wide, 3.5 metre-tall screen. It was fabricated using W20 steel sections which closely match the appearance of earlier steel frames that were often seen in warehouses and other old properties.
Finished in RAL 7009 Green Grey and glazed with Krypton-filled 20mm IG units, the frames also use warm edge spacer bars to help reduce heat loss. The opening lights and three doorsets feature high-performance weather stripping.
Nick Vassilopoulos, founder of Perla Windows, said: "This is our favourite project to date, featuring an unusually large screen for a private home. It incorporates a double door and single doors as well as fixed lights – all in a lovely grey colour, with cool ironmongery."
Jessica Meech, MAP Architects' architectural assistant, added: "We were impressed with the communication from the Perla team and their work on assuring that the site survey was accurate and delivered on time (even during the pandemic!) Perla worked very well with the contractor on site and were quick to respond to building control queries. We loved both their work ethic and the excellent design and finish of the product and very much look forward to working with Perla again."
Members of the SWA cover the whole of the UK to serve all sectors of the construction industry, including hotels, retail, residential and high-security applications. The SWA has an ongoing programme of product development which has seen its technical committee carry out testing on new thermal breaks and fire doors for internal use. The association's collective buying power is helping to mitigate price rises and maintain the supply chain, its representatives say.
In addition to widely specified W20 systems, customers can also choose from W40 and W50 frames, among other options, or access services for the repair and restoration of older steel windows in heritage situations. For further information about the Steel Window Association or to becomine a member, visit steel-window-association.co.uk.