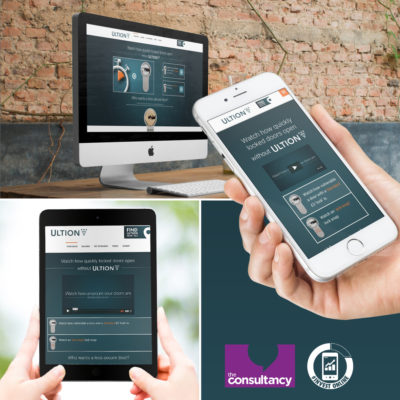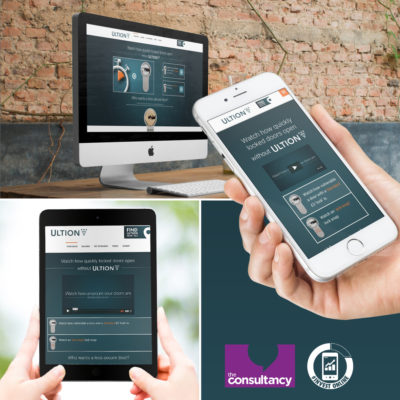 'Digital innovator', The Consultancy, says it has added another 'industry visionary' to its portfolio after it was chosen to develop a modern website for Ultion.
Brisant Secure, recently entered the cylinder lock manufacturing industry by creating Ultion, and enlisted the help of The Consultancy to develop a website fit for both retail and trade customers.
With the help of the digital specialist, Ultion–Lock now offers a fully mobile responsive website with eCommerce functionality and trade and retail sections.
Nick Dutton, director of Brisant Secure, said: "We've worked successfully with The Consultancy on several different projects to date.
"The Consultancy have always worked well to deliver all of our projects to a very high standard and have understood all project briefs and aims and have provided us with a high quality of work, every time."
The new website includes all the Ultion products available to purchase online, a retail section for the homeowner, a registration section – where customers can register their lock for the Ultion £1,000 guarantee – and a trade section for manufacturers and installers, as well as maps including an installer map, locksmith map and manufacturer map.
The website also offers updatable responsive banners for trade customers that can be featured on the company's website, free of charge, without an affiliation scheme.
Richie Thornton, director of The Consultancy said: "We've been working with Nick and Brisant for many year now on a number of different projects within the industry.
"We always enjoy the challenge when working with Nick and the Brisant Secure team, and the Ultion-Lock site is a great, successful project that we feel both parties are very happy with."
Described as 'a work of art', the Ultion-Lock website was reportedly built with the homeowner in mind. A feature map shows 'crime and security' in your area and downloads such as the Security Report and Youtube and Vimeo videos also available 'at the click of a button'.
The Consultancy says it has been 'working tirelessly' for the past decade to 'challenge the conventional ways of the industry, and eradicate the use of the fax machine for a more modern approach of using online ordering and eCommerce systems and encourage business owners to #InvestOnline'.
For more information, or to join the #InvestOnline campaign, visit www.theconsultancy.co.uk