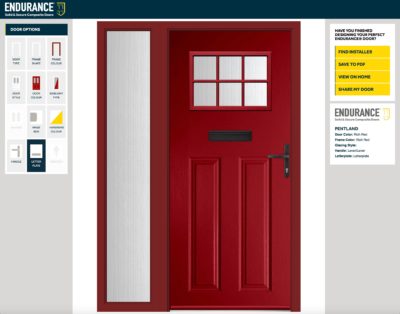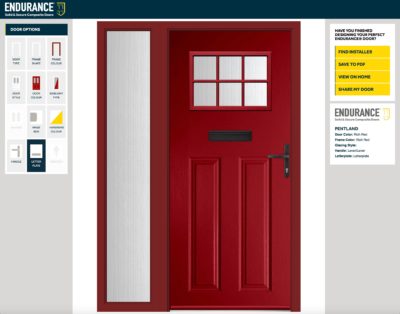 Following the recent success of its 92-page consumer brochure, composite door manufacturer, Endurance Doors, has launched a 'new and improved' door designer, co-developed with Business Micros.
The new door designer, http://design.endurancedoors.co.uk/, is said to build on the 'considerable success' of the first version, which was launched at the beginning of the year. The ability to view large images of the doors designed, on all devices, has reportedly been a particularly welcome feature, negating the need for any separate app download.
Keeping the existing simple six-stage door design process, the main changes appear at the final stage where consumers are encouraged to find a local installer, save to PDF, view on their existing property or even share their chosen design via social media. Local installers are now listed within the website with a call back option, or the ability to e-mail a local installer, as lead capture becomes ever more important for Endurance Doors.
The 'view on home' facility has also been improved, with greater image editing options, including the ability to rotate both landscape and portrait images. With each door designed, a unique URL is created, allowing sharing via social media channels, with friends or even with a local installer.
Stephen Nadin, managing director of Endurance Doors commented: "Thanks to customer feedback and our thirst for continual improvement, we've added a number of new features to our online door designer. With images shown to fill the screen regardless of device and real lead generation functionality, we've added further rationale as to why so many companies are changing to Endurance.
"With the impressive 92-page brochure recently launched to great acclaim, we're not only a perfect partner for the trade, but we also have a strong and growing consumer facing brand."