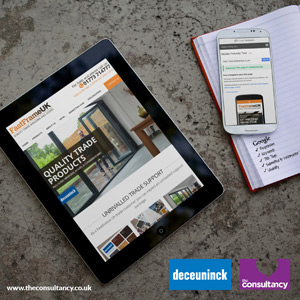 Profile systems company, Deceuninck, has welcomed the latest Google algorithm change thanks to an on-going partnership with digital specialists The Consultancy.
The two have an agreed web support and development partnership meaning every Deceuninck customer's website is already mobile-responsive and in keeping with the latest algorithm shift.
The change, which came into force last month, suggested that Google will improve search rankings for websites which create a 'mobile-friendly experience' whilst penalising those who don't.
With all of Deceuninck's websites already providing a mobile-friendly experience, The Consultancy wasted no time in launching its latest work for fabricator Fast Frame UK.
Roy Frost, managing director of Deceuninck, said: "The Consultancy is constantly at the forefront of all developing technologies and has really impressed us with its latest work.
"As a company we are continuing to increase our market share within the UK and The Consultancy's service and in-depth knowledge is aiding us to do that.
"The Consultancy ensured all Deceuninck customer websites were mobile responsive from the beginning, meaning that we can continue to appear in Google rankings without being penalised."
The digital specialist's latest project took Fast Frame UK from a simple page to a fully responsive website displaying the company's products and news whilst allowing visitors to request call-backs and quotes.
Richie Thornton, director of The Consultancy, said: "A user can now get every scrap of information they may need about Fast Frame UK from its website, whether accessing it on mobile, tablet or desktop.
"We would urge anyone with a website in the industry to check that they comply with Google's latest algorithm change and if not get in touch.
"If you're looking to comply but without a dramatic overhaul, businesses are also welcome to look through our packages on www.glazingvault.com."
To contact The Consultancy visit: http://www.theconsultancy.co.uk/ or call 01429 239 689.