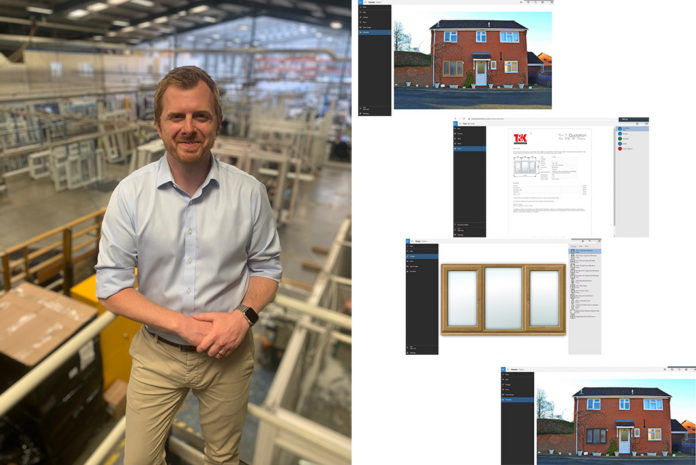 Emplas has launched a new retail tool which, according to the fabricator, simplifies remote-selling while offering seamless integration with ordering processes.
This includes allowing installers to change window colours and designs 'in seconds', swap in and out different glass specifications, and apply the options chosen to a digital image of any property, either remotely or in the home.
Emplas says that it also automatically pulls in pricing for each job, changing instantaneously as specifications are adjusted, before automatically pulling that data into Emplas' production systems.
Jody Vincent, sales director, Emplas, said: "On the front-end, the bit that you actually use to sit down with the homeowner and use to sell and design windows and doors, we're using WindowCAD.
"It's a great tool, you can develop designs in real time with the homeowner, either in person or remotely – but it's not unique to us.
"What is unique is the integration we can offer with our ordering processes. Our inhouse developmental team has created an API [Application Programme Interface], which allows WindowCAD to 'talk' to Window Designer and export the data to it.
"It transforms the sales process, while delivering tangible efficiency gains by removing process."
In addition to supporting installers in selling more effectively, Emplas adds that the placement of orders from WindowCAD, directly into Window Designer, means there is no requirement to input data a second time, it's pulled through as soon as the order is approved.
Emplas has also developed a further interface so that quotations are automatically created, pulling in terms and conditions, relevant organisational memberships and service level agreements, modelled on those developed for T&K Home Improvements, Emplas retail business.
"We started trialling Windowcad, the API, and Window Designer with the T&K sales team early in the summer. We've gone through a number of refinements since then to make sure that what we're launching works for our customers in a retail environment," continued Jody.
"And it does. It's proven. It's allowed the team to sell more effectively; delivering a better and more professional service to the end-user; but the automatic pricing, the automatic pull-through of a professional quotation pack – and then the ability to place that order in seconds, without additional data input, is a definite commercial advantage. You're getting time back and eliminating error."
In addition to the ability to take the homeowners through the sales process remotely, Emplas also created a 'digital signature' system, which can be used to record and register approvals in exactly the same way as they would a hand-written one.
"COVID-19, makes the operational and efficiency gains that WindowCAD integration with Window Designer can deliver a real benefit as more of the UK goes into lockdown," said Jody.
"Moving to the digital integration of your sales process and operations, simply, however, makes sense. You're delivering better customer experience and saving time. That's important when the industry is seeing a boom – and even more important when it's not."