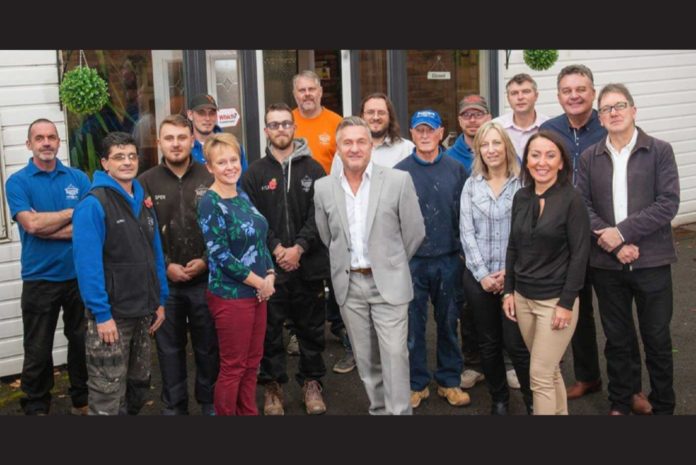 Framepoint, an app created by software provider Tommy Trinder, has enabled Harvey's Conservatories and Windows, Leicester, to keep selling during lockdown. The business claims it is now 'busier than ever'.
Eddie Barton, design consultant and sales representative for Harvey's, said: "Remote selling became a real advantage during lockdown. There were periods where we were told not to go and visit anybody, and not to go into houses. Framepoint came into its own. We've had virtual meetings, designed things… we can be office-based and sell windows, and it works. It's a new opening for us."
According to Eddie, Framepoint's quoting software has proved to be a very good as a sales tool. "The visual side of it helps you increase your sales potential," he said. "Before, I'd just be sketching things on a pad. The fact that I can take a picture of a house and then swap and change colours, chop and change with the flick of a switch, it's great! You can show someone's house as it will be, and you can just do it on the spot, or online. It's the detail that makes the difference. It's helped my sales quite a bit!"
Harvey's is a family business that has been in the industry for nearly 30 years. Communicating its reputation for quality is essential, the business claims, to enable it to stand out from the crowd. With Framepoint, "the presentation of the final quote is second to none," said Eddie.
"We show them the before picture and then what it's going to look like with the new windows and doors. They can see where the openers are, the handles, views from the front and the back… you get all the detail. The feedback has been great. Customers have got back to me saying: 'I've never had this sort of service; nobody else has showed me what the house is really going to look like.'"
As a self-confessed technophobe ("I'm definitely not a techy person, I'm too old for that!"), Eddie was a little apprehensive about using a cloud-based system. But he found it easier than he'd anticipated. "It's just so simple to use," said Eddie, "and the good thing about Framepoint is that if you do have a problem, you just give them a call and the help is really good. You've got backup. It's great!"
Framepoint is subscription-based and billed monthly. To find out more about Framepoint, or to book a free demo, visit www.tommytrinder.com.