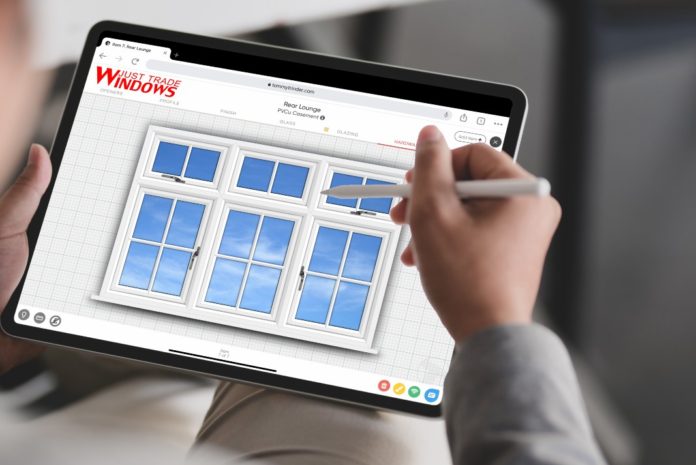 Based in Sheffield, Just Trade Windows is using the GGP Installer Award-winning job quoting software, Framepoint, to keep customers thinking less about price and more about creating a visually stunning home. The Framepoint app was created by the software company, Tommy Trinder.
"We were sending out hand-drawn sketches to customers, or spec' sheets that were really wordy," explained Simon Dinnie, Just Trade Windows' business development manager. "That sort of thing just doesn't mean anything to the homeowner – all they were getting from it was the price." Framepoint has enabled the firm to harness the power of presentation and "take the homeowner on a visual journey," according to Simon.
"You can get a better price for the job just because of the way the quote looks. If you're asking for top line on a project, you have to look the part. Framepoint is great for that. If a homeowner has three quotes within £500, and the upper-end quote is showing a much better visual journey, they're going to go with that every time. Windows and doors are a big part of transforming a house. With Framepoint, the customer can really see what they're getting."
Quotations generated via Framepoint have empowered the Just Trade Windows team to charge a fair price for their best-in-class service," they say. "For me, it's great to be maximising the top-line with Framepoint, Simon added. "If you've got a project that you might usually charge at £20,000, I definitely think that using Framepoint you could get £21,000."
The Just Trade Windows team reports that Framepoint has helped them administratively too, claiming that the app allows them to "really cut down on errors and save a lot of time". "You do your initial visit, then, if the customer goes ahead, you'll go in again for your final measure," explained Simon. "But, between those visits, there're often lots of conversations between myself and the customer, tweaking things, changing colours, and the surveyor isn't usually part of that conversation. With Framepoint, you're visualising all these changes for the customer as you go, which is really simple to do, then you just download your surveyors' report in one click, and the surveyor can see all of those changes you've made. It's definitely a good feature!
"Framepoint is great for remote selling. I've taken orders by walking around the showroom with a customer on a video call on Zoom, then, once I figure out the kind of thing they're after, we switch to a screen share on Framepoint to create their windows. Customers love it!"
Framepoint is subscription-based and billed monthly. To find out more, and to book a free demo, installers should visit www.tommytrinder.com.