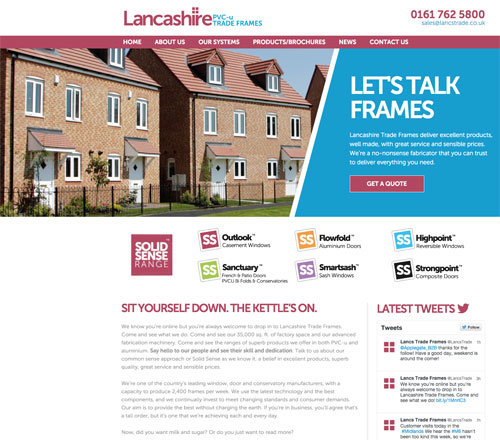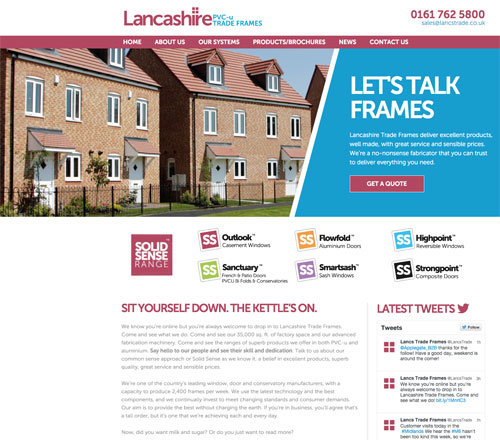 Lancashire Trade Frames (LTF) has just launched a brand new website.
Fully enabled for mobile and tablet, LTF says the site is simple to navigate with a clear layout, streamlined menus and a 'down-to-earth' tone that reflects the company's own approach.
LTF has kept its colour scheme throughout the site. A key feature is the detail about the Solid Sense range of products. The Solid Sense brochures, which can be tailored to installer's or builder's own brands, can be downloaded instantly with a click of a mouse.
The site also includes detail about LTF's three main systems: Kömmerling, Spectus and Smart's aluminium. Here visitors can see a breakdown of the main features and benefits of each system without having to leave the site.
To keep its customers fully up-to-date, the site includes a news page and LTF's Twitter feed.
The new site also includes an invitation for anyone to pay a visit to the company – to get to know the business, its ethos and its people over a cup of tea. But, recognising that time is always tight, there are photos of the LTF team on the 'About Us' page.
Mark Rowland, LTF's managing director, commented: "It's always good to be able to put a face to the name. Everyone's welcome to drop in, of course, but we believe that our new website, with its robust, simple structure and clear information will make life easier for anyone interacting with us online."