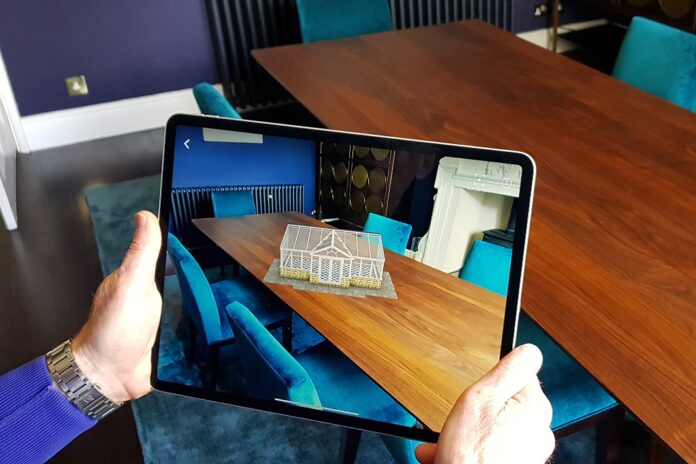 Leaders of the software firm PST have launched a new version of the business' augmented reality (AR) app. Called 'vsHome AR', it is designed to help to bridge the gap between installers and homeowners.
The app allows installers to share product designs directly to their customer's phone or tablet, to enable them to visualise what a new conservatory, orangery or extension will look like as a life-sized representation on the side of their home, or presented on a tabletop.
The vsHome AR app now includes pre-downloaded models chosen by the PST team, as well as access to more AR models via a link to PST's new AR models webpage.
While the app has always allowed installers to share their own models directly from vsHome, it now comes with a built in QR scanner. All the homeowner needs to do is open the app and scan the QR code they receive in an email from their installer. Homeowners are then able to preview and interact with their model before choosing viewing modes: Real Scale, Tabletop and VR, PST's representative has said.
"As we continue to innovate and enhance our offerings, we are thrilled to announce the launch of the updated vsHome AR app," said Neil Travers, PST's managing director.
"At PST, we remain committed to driving progress and transforming the home improvement industry through cutting-edge solutions. Our vision has always been to empower installers with the latest technology, enabling them to elevate their customer service and stay ahead of the competition.
"With vsHome AR, they can provide an unparalleled augmented reality experience, allowing their customers to explore and envision their dream home improvement projects like never before."
The app works as a companion to vsHome, PST's sales platform, where installers can design, visualise and price a wide range of home improvement products and bring these visualisations to life using an integrated 3D editor, PST's representatives added.
For more information or to sign up to a 14-day free trial, visit PST's website.