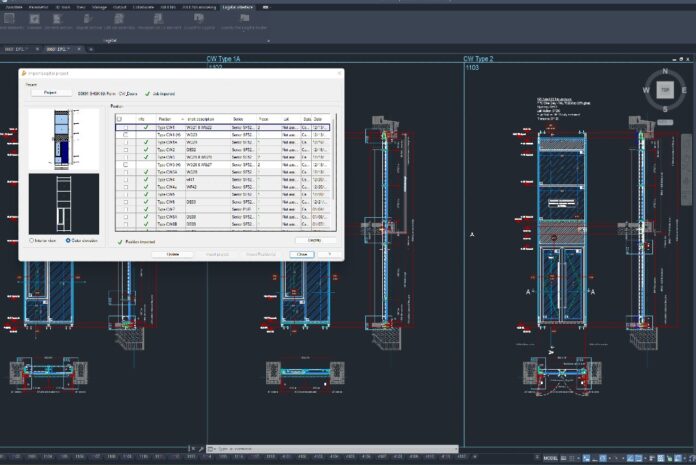 Orpington-based fabricator Soundcraft has reported significant savings in design time for some of its most complex elements in aluminium, thanks to the addition of CAD-PLAN's Athena software to its LogiKal set up. Soundcraft has been using BM Aluminium's LogiKal software alongside AutoCAD for more than five years, but looked for a new way to process more intricate configurations and speed up its workshop drawings.
When BM Aluminium announced a tie in with CAD-PLAN last year, the commercial window, door and curtain walling specialist was keen to explore the potential of the Athena CAD software package, knowing that the BM Aluminium team would be on hand to provide specialist help and support. Athena enables fabricators to generate workshop drawings from standard element data, with inbuilt 2D, 2D+ and 3D functionality.
The software provides a user-friendly drawing environment for even the most complex designs, and generates both parts lists and production drawings. It speeds up design time by automatically applying assemblies throughout an entire model, and includes a live interface with LogiKal, which means that, once an element has been approved, it can be exported straight to LogiKal for processing, cutting optimisation and material requisitions.
Max Rozwadowski, Soundcraft's design manager, explained how using Athena is removing the risk of human error, as well as saving time: "Previously, we were designing each job in AutoCAD, manually preparing workshop drawings and then processing the design separately in LogiKal. That was leading to multiple interpretations and inputs, with lots of potential for mistakes which we had to spend a long time checking.
"Now, we are designing all our bespoke items in Athena and exporting those direct to LogiKal, so there is only one set of inputs and only one round of checking required. Once a design is approved, it gets passed to our production team with minimal time needed on preparations and we know there are no differences between the drawings and what is being processed in LogiKal."
Soundcraft plans to add BIM capabilities to its Athena package, and to integrate BM Aluminium's REVIT plug-in into its LogiKal set up as well, so that it can collaborate more efficiently with the growing number of architects relying on BIM modelling tools. Michael Bishop, Soundcraft's commercial manager, added: "We manufacture what is arguably the widest range of bespoke door, window and curtain wall products in the UK, so the ability to speed up the design of our bespoke elements is particularly valuable. We're already seeing meaningful operational efficiencies from our investment in Athena, and it's further enhancing the service we can provide to our commercial customers.
"All the way along, we've had valuable support from the BM Aluminium team whose experience and expertise has ensured a seamless integration with LogiKal." For more detail, visit bmaluminium.co.uk and soundcraft-doors.co.uk.