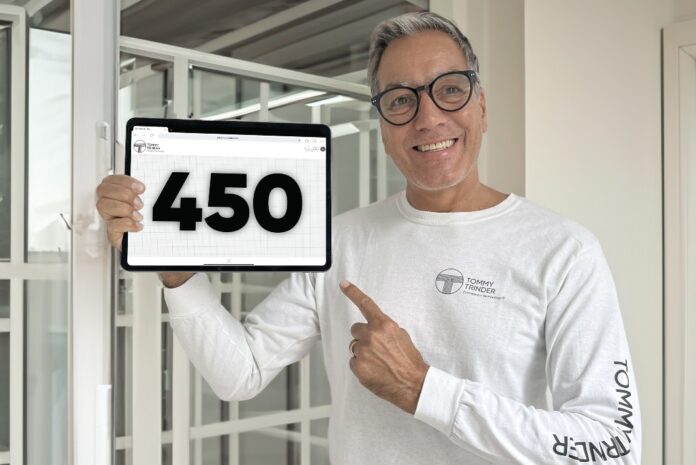 The Tommy Trinder team has welcomed its 450th window company to the Framepoint fold. Framepoint is an award-winning sales tool designed by the software firm, Tommy Trinder.
"In a demanding market, the desire to stand out from the crowd is continuing to fuel growth for Tommy," said Chris Brunsdon, the business' founder and CEO. "Work isn't just coming through the door anymore and installers are looking for an edge – something to impress customers and keep those conversion rates up.
"Framepoint is built to help installers sell with wow. It's proving to be the tool for the job."
The value of work quoted by installers on Framepoint is on the rise too; more than £155m of supply and fit work was quoted via the platform in July, the business' leaders have reported, which is more than 35% up from July 2022. Quote values have also climbed towards £7,400 over the last three months.
"We are seeing premium materials making significant market gains," Chris continued. "Aluminium and timber combined now account for 40% of everything quoted by installers. And when it comes to PVC-U, Framepoint subscribers are managing to get a bit more on every job by routinely showing off value-added features such as foils, dual colours, dummy vents, mechanical joints, flush casements, dummy peg-stays and surface-mounted bars, in a visual and compelling way."
More than 55,000 homeowners have received a quote generated by Framepoint so far this year, the Tommy Trinder team has reported. Around half of those homeowners were provided with visualisations to accompany their quote, they say.
"Homeowners are expecting a more complete buying experience," Chris added, "and the makeover tool – where installers provide a mock up to the homeowner of their new windows in situ – is becoming a standard part of the quoting process. Scruffy, cobbled-together quotes just don't cut it with today's discerning purchasers. Customers want to see exactly what they are getting; they want to try before they buy."
Installers can find out more about Framepoint, and book a free demonstration, online at the firm's website.