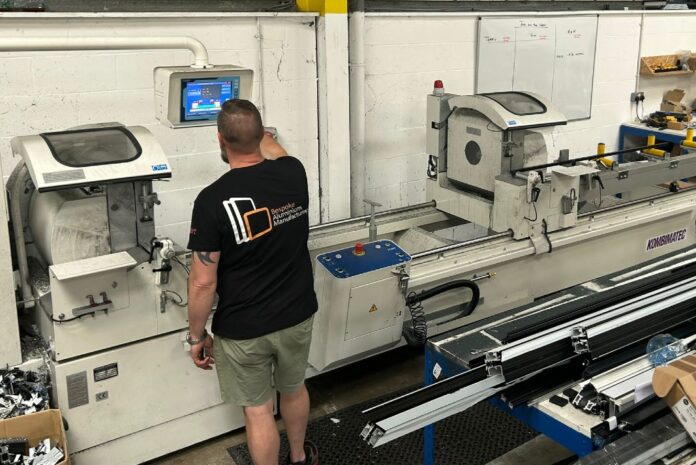 Leaders of Bespoke Aluminium Manufacturing (BAM) have bought a selection of machinery from Kombimatec. The deal with Bedfordshire-based Kombimatec is part of the Winchester-based manufacturer's commitment to keeping their customer promise to hit the ground running on orders, we have been told.
Having made the decision to expand the company's direction and start cutting frames in house, managing director Ben Turner and business partner Matt Goss invested in a range of machinery to ensure maximum, 24-hour output from BAM's new factory, which was established in January 2022. Along with windows and facades, the collection of machines is to also support the production of aluminium bi-folds to the south and south west.
"With years of combined expertise in sales, plus a mutual frustration with the quality and service from competitors, the pair chose to take on new premises and fill it with five Kombimatec pieces," said a representative of BAM.
Ben added: "Matt and I have always liked to get our hands dirty, and we share a determination to offer the very best to our customers. "When we talked about expanding into cutting the products on site, we immediately had Kombimatec recommended to us due to their reputation for simple, straightforward transactions and great customer service. We knew our spend would be big, and we were keen to move quickly, so it was vital that whoever we went with could support us in what we wanted to achieve."
The new machinery list at BAM includes a CC124 pneumatic corner crimper, the DGS530 electronic double mitre saw, which boasts a series of automated features and routines, an AMC308 Axis machining centre with an automatic tool change cabinet and touch screen control, an AFV362 variable angle end miller that has a quick change arbour, and the MGS460 variable angle upstroke mitre saw with 400mm blade. From order to delivery was just two weeks.
"Kombimatec's David Parsons has been superb to work with," Matt and Ben have stated. "Aside from the recommendation, we searched online for potential suppliers and it was an easy choice once we saw the vast range of equipment that Kombimatec offered.
"One conversation with David and we knew we were in safe hands. We're very pleased to be working with such a progressive and forward-thinking company, and look forward to seeing both businesses grow."
To find out more about the Kombimatec range, as well as installation and operation training services, visit the supplier's website, call the team on 01582 562 218 or email sales@kombimatec.com.