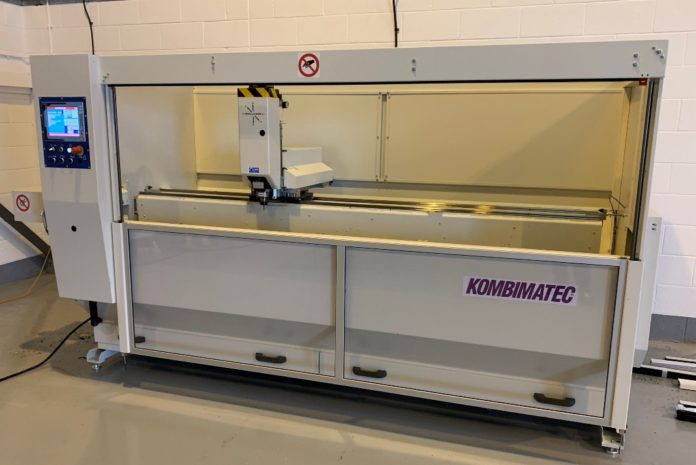 Door and Window Systems (DAWS), a Liverpool-based fabricator, continues to increase productivity in response to customer demand, with the recent installation of its fifth new Kombimatec machine in 18 months – this time, the AMC308 Automatic CNC Machining Centre. DAWS is a family-run business specialising in the manufacture of high-quality aluminium doors, windows, bi-folds and rooflights, for both the domestic and commercial markets. The company was looking to increase productivity and boost its business growth cost effectively, without the need to take on new staff. Kombimatec provided the solution.
When its latest addition of the AMC308 machining centre joined the fabricator's manufacturing plant in Bootle, it was immediately among friends, as, almost every machine DAWS has is a Kombimatec. Within the last 18 months alone, the company also purchased a DGS500 electronic double mitre saw, a CC120 Power Crimper, an AFV362 variable-angle end miller, and a MGS460 upstroke mitre saw.
The AMC308 machining centre was developed by Kombimatec for both aluminium and PVC-U profiles. Manufactured with a solid steel construction, using high quality components, it incorporates advanced CNC control with CADCAM software, that provides exceptional levels of precision and reliability during production. DAWS version comes with a 5HP electro-spindle inverter driven to 180000 rpm, a closed-loop, servo-driven system, an automatic safety guard, and a voltage monitor for electrical protection.
Like all Kombimatec machinery, the user-friendly AMC308 machining centre is a cinch to operate and program, so, all the staff at DAWS are able to use it with ease. An automatic, multi-tool changer allows the machine to process complex tasks without interruption, and it automates traditionally time-consuming tasks – including all drilling, routing, slotting, and milling functions – allowing staff to get on with other jobs. Its faster processing speed increases output while the machine's accuracy reduces wastage too.
According to Dave Harrison, DAWS' director, "the AMC308 is a benchmark for fabricators establishing a window fabricating business in our industry. Previously, we used manual copy routers to complete the prep work, and it got to the point where we had one person working the router all day. From a cost point of view, this machine will easily pay for itself in two years. For us, the main benefits are accuracy and efficiency. The CNC has enabled us to increase our output massively."
Operations on the production floor are now super-efficient, the business reports, as the whole team has benefited from improved processing. The business aims to increase efficiencies and order processing, and to accelerate business growth – all while ensuring the ever-important, consistent high quality and precise results.
"Like many of our loyal customers, DAWS prides itself on supplying the best quality, premium door and window products on time every time – and Kombimatec is proud to continue to provide the solutions to help them achieve that," said David Parsons, Kombimatec's director. Kombimatec has been manufacturing and supplying precision machinery used to fabricate windows and doors for over 35 years, delivering machines for working PVC-U and aluminium profiles in the UK and worldwide.
For further information about Kombimatec's range of CNC machining centres, call 01582 562 218, or email sales@kombimatec.com. Alternatively, visit www.kombimatec.com.