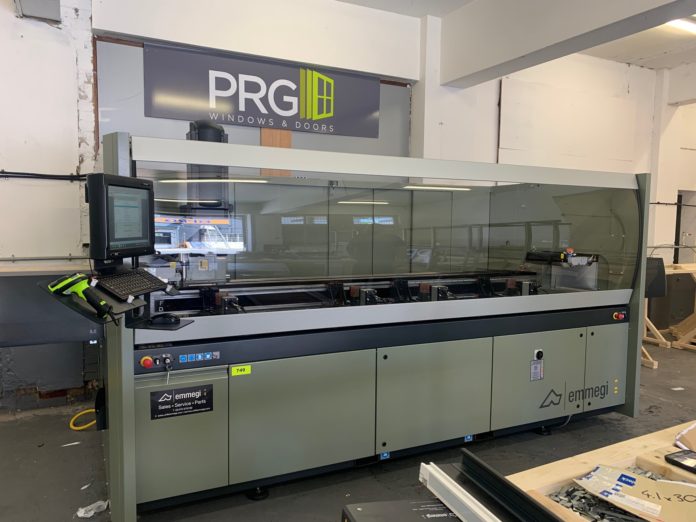 Emmegi and Decalu have joined forces to make it easy for fabricators to take their first steps into manufacturing in the Deceuninck aluminium system. Emmegi is offering a start-up package of machinery, which gives fabricators a simple and cost-effective route into manufacturing, backed by one of the biggest and most trusted names in the machinery market.
The machinery business is pairing an Emmegi Phantomatic CNC machining centre with a Classic Magic twin head saw, to give fabricators a 'classic combination' of machines that maximise throughput and efficiency. Ian Latimer, Emmegi UK's managing director explained: "One of the USPs of the Decalu system is the speed of fabrication, so we're recommending one of our high-speed Phantomatic machining centres, with an electronic twin head saw, to help fabricators make the most of that. These are proven to work well together, and we know they will give customers years of trouble-free operation."
Nigel Headford, Decalu's director in the UK, said that many of the manufacturing enquiries for Decalu are coming from companies that traditionally have fabricated in PVC-U, and bought in their aluminium products. He added: "They can see that Decalu is essentially as quick and easy to fabricate as PVC-U, and are recognising that they can make bigger margins on the aluminium side of their business if they switch to manufacturing from buying in.
"We're focused on helping them to take that step. Working closely with Emmegi is a key part of the support we're offering. The machines themselves have a reputation for quality and durability, and they're backed by UK-based service and engineering teams who we know our customers can trust and rely on."
Emmegi has already supplied a Phantomatic M4 and Classic Magic to Decalu fabricator PRG, based in Romford, Essex, and a Phantomatic T3A to Glass House, Cardiff. Further installations are reportedly on their way.
Dawud Sandhu and Asaad Hussain, representatives of PRG, said: "We liked the fact that the Emmegi machines could match the quality and performance of the Decalu product, and we felt reassured by the established partnership between the two businesses. Decalu and Emmegi staff visited us on the same day, and the installation and training was really well coordinated, setting us up nicely to add aluminium to our existing PVC-U offering."