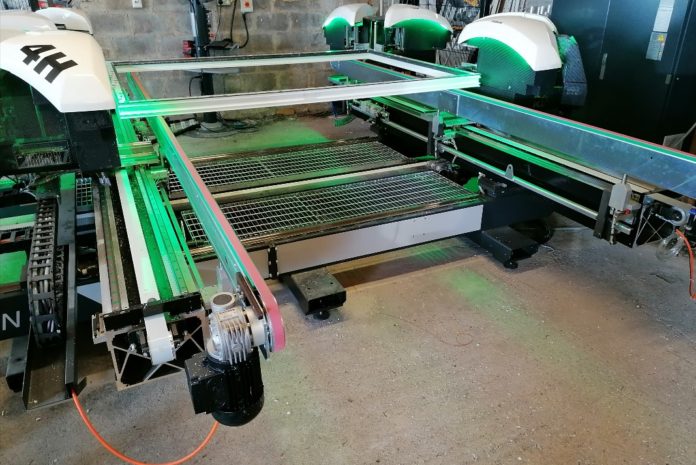 Emmegi's new Fusion 4H PVC-U Quad Welder was installed at O'Grady's factory in Kiltormer, Galway, last month (April), the first installation of the machine in Ireland, after its debut at the Fit Show exhibition in 2019. According to the distributor, the machine's quality of finish is generating a huge industry response: the video of Emmegi's new Fusion 4H PVC-U Quad Welder being installed has been viewed almost 5,000 times on LinkedIn.
The automatically adjustable, fully digital CNC machine has reduced cycle times and a weld restriction adjustable from 0.2 to 2mm, depending on the top and bottom profile colour. The team at O'Grady UPVC had seen the horizontal welding machine at the Fit Show and felt that the quality of the weld and the flexibility and speed it offered would enhance their operation.
The Fusion offers manual loading, automatic unloading and a fully programmable, variable cycle to carry out the heating and welding automatically. Built-in, bright green LEDs on the welder heads show the status of the machine at any given moment and cycle, to alert the operator of any actions required. Full digital control of the axis can be commanded, as well as exceptional precision in the welding head movements. This allows for incremental adjustment of the counter blocks to deliver weld restrictions down to 0.2mm, simplifying and shortening the subsequent machining cycle.
Alan O'Grady, director of O'Grady's, said: "We used a vertical quad welder previously, which we were relatively happy with. But the horizontal Fusion is already giving us a better finish on the frames, a quicker production time and absolutely no compromise on the weld strength. It will definitely give us faster throughput and improved efficiency."
Emmegi's specialist engineers in Ireland carried out the installation, in line with Covid restrictions. For more details, visit www.emmegi.com/en/alphabetic-product/fusion-4h.