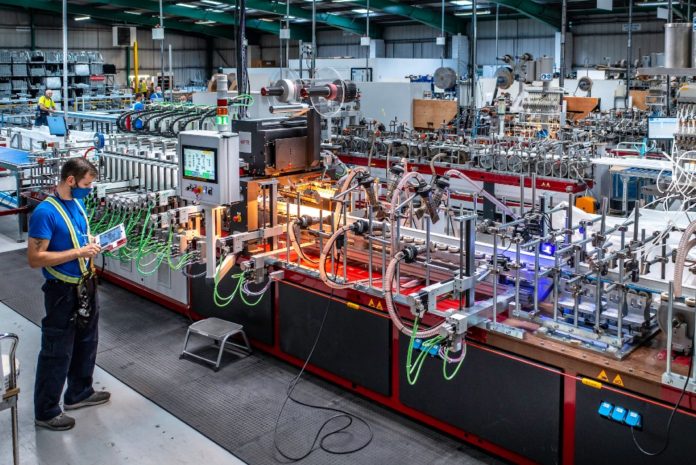 Deceuninck has further increased its capacity for foiled product with an additional Luna R automatic profile lamination machine at its Calne extrusion facility, Wiltshire. The state-of-the-art Luna R machine is the latest in a series of six-figure investments in manufacturing capacity by the systems company – which includes two new extrusion lines – representing a multi-million pound combined outlay.
Capable of processing highly complex profiles, the Luna R is reportedly at the cutting edge of lamination technology, delivering exceptional quality of finished product. Deceuninck hopes that the machine will offer it additional flexibility to respond to increasing levels of demand for foils.
"Colour is a key driver for growth. For some of our customers, it now represents as much as 60% of their total order volume," said Rob McGlennon, Deceuninck's managing director. "Homeowners are increasingly looking for higher value products, including flush and heritage style casements, and that goes hand in hand with a greater requirement for foiled finishes.
"This has directly contributed to growth of 40%, year-on-year, in the first quarter of 2021," he continued. "The significant investment we have made in foiling and extrusion means we are now well positioned to increase our output in line with anticipated further demand for the rest of the year."
Deceuninck has taken a firm lead with its colour offer, with 30 colourways available from stock and 20 additional options on 15-day lead times. In addition to fast turnaround times and a comprehensive range of finishes, Deceuninck customers also benefit from exclusive insight into homeowner purchasing decisions on colour. This follows an independent survey, commissioned by Deceuninck and conducted by YouGov, that revealed that 75% of homeowners consider choice of colour as an important factor when considering new windows and doors (read more on this story, here.)
"Our strength of supply and fast lead times means that our customers are extremely well placed to sell on colour," concluded Rob. "Our survey, which includes a wealth of data on colour preference, but also on other elements such as energy efficiency, security, cost and style, has given them a further, unique opportunity to capitalise on demand for foils going forward." For more information, call Deceuninck on 01249 816 969, email deceuninck.ltd@deceuninck.com or visit www.deceuninck.co.uk.