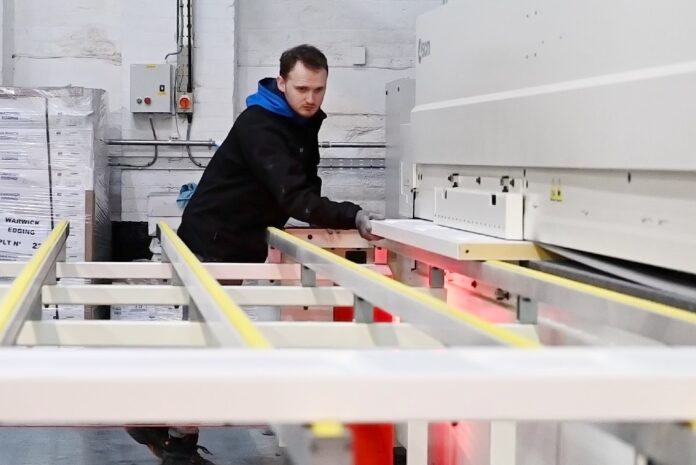 ODL Europe has taken delivery of its second edge banding machine, which is set to further increase the company's composite door prepping capacity. Bryan Bultema, the firm's managing director, said: "The demand for our prepped composite doors has risen exponentially, resulting in this latest investment to ensure we continue to offer a competitive, high-quality product to our customers throughout 2023 and beyond."
The Fravol Fast Series 625-23 machine is said to offer exceptional reliability, allowing ODL Europe to efficiently scale up door prepping capacity in line with demand. The heavy-duty machine has been engineered to the highest manufacturing protocols, we are told, and delivers a consistent high finish, every time.
This second edge banding machine purchase is part of ODL Europe's long-term strategic UK plan, and continues the investment in the company's composite door offering. ODL Europe's in-house door prepping service includes prepping slabs for door locks, letterplates, glass apertures and door hinges with open in and open out options. This flexible service ranges from simple sizing of doors on the beam saw to a fully prepped door service, with or without edge banding.
Bryan said: "Our in-house facility allows a degree of flexibility. We can offer as much prepping as is needed. Prepping of our market-leading TriSYS glazing cassette and Capstone door slab can be carried out together for total product consistency."
ODL Europe's record of continuous investment in its product development and processes to ensure it continues to meet the needs of its customers has included expanding its manufacturing space at its Bootle headquarters, to help drive further efficiencies. Bryan said: "Our second edge bander is part of a wider programme of investment for ODL Europe as we deliver our strategic UK plan to become the composite door partner of choice.
"Our business delivers a value-added product range that increasing numbers of customers are finding appealing. Our latest investment in our in-house prepped service further supports our customers and contributes to a reliable service."