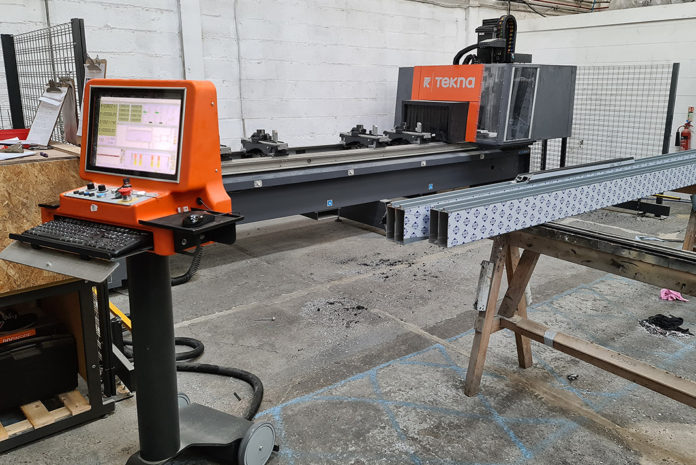 According to Emmegi (UK), a big benefit for its customers is that they also have access to the Tekna range of machines as well.
Tekna was acquired by Emmegi's parent company, Voilap, in 2015 and since then, its range of cost-effective solutions has been available to customers in the UK, with full installation, maintenance and servicing back up from the team at Emmegi (UK) in Coventry.
For a company like Glass and Framing Solutions, which was already using an Emmegi T4A machining centre and had been impressed with the quality and service, that was a big plus when it came to sourcing a new, heavy duty machine for its Hull factory.
The window, door and curtain walling fabricator is said to have specifically wanted a machine with the tools mounted on a mobile gantry and which also had the capability to machine extremely large curtain walling profiles – the Tekna 944 four axis machine fitted the bill perfectly.
Martin Linnell, Emmegi's sales manager, who helped Glass and Framing Solutions make their choice, explained: "Even in the Emmegi range, which is really extensive, there are always occasions when we don't have exactly the right machine for the customer. However, the Tekna range fills those gaps and it means customers never have to compromise on what they really want."
The Tekna 944 supplied to Glass and Framing Solutions is said to have all the key features which were on the company's wish list, including a moving gantry with a spindle which rotates around 180° – a feature designed to make it 'quick and easy' to machine on both sides of the profile. There is also an optional 12-piece automatic tool changeover magazine mounted on the gantry which is reported to offer greater flexibility in terms of tool selection and speeds up the drilling and machining process even further.
Now that it has been installed and commissioned, Glass and Framing Solutions says the machine is delivering significant improvements in productivity and, because of its competitive price point, is promising a very quick payback.
Richard Mail, Glass and Framing Solutions' manager, added: "The Tekna 944 is proving an excellent addition to our factory, particularly at a time when we are seeing a surge in demand for our products from commercial clients. A big advantage is that it uses a very similar software set up and interface as the T4A, so our team have been able to get up to speed really quickly with only minimal training and support needed."