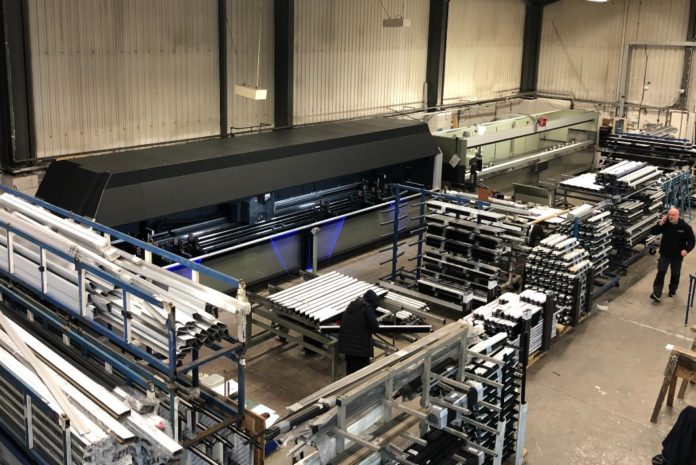 Douglas Commercial has received a third Emmegi CNC machining centre, 16 years after taking delivery of its first. The Staffordshire-based aluminium product manufacturer opted for Emmegi's Comet X6HP four-axis 7000mm model, which is fully enclosed and soundproofed.
Howard Douglas, manging director, admitted that he was sceptical about the payback when he invested in the first Phantomatic T5 3-axis 7000mm CNC back in 2005. But the speed and performance of the machine meant that he was converted within months. He subsequently purchased an Emmegi Comet T6I 4-axis 7000mm machine and upgraded to the latest Emmegi model when demand peaked this year.
He said: "We do a mix of subcontracted and supply-only work, and our reputation rests on the outstanding quality of the windows and doors we produce. Customers come back to us time and time again because they know the value of what we deliver in terms of precision, speed and service. For that, we have to have the very best quality machines at competitive prices. Emmegi has always been our first choice.
"The machines give us everything we need in terms of consistent quality. We also know we can rely on the expertise of their engineering team to ensure a smooth installation and ongoing servicing."
Before Douglas Commercial placed the order for its Comet X6HP, the team journeyed from Cannock, Staffordshire, to the factory of H&H Architectural Systems in Rowley Regis, West Midlands, where the very first of models were installed last summer. Reportedly, H&H had nothing but praise for the performance and flexibility of the machine, which can machine on profile edges and on complex shapes, making it suitable for large curtain walling profiles as well as for window and door fabrication.
With a pendular mode and two independent work areas, the Comet X6HP allows fabricators to potentially work on four separate large and small dimension pieces at the same time, maximising efficiency. Howard added: "There was no risk for us in choosing the new X6HP because we had already seen it in operation and heard directly from H&H just how impressive they had found it. We looked at machines from other machinery suppliers but didn't feel that any of them could match the capability and ease of use of the X6HP or offer the same level of UK-based support."
Alongside the new CNC machining centre, Douglas Commercial has also recently added another Emmegi Combi twin head saw to its factory set up. This has a bigger cutting capacity than its existing saws, making it ideal for patio doors, where demand is continuing to increase, as well as being flexible enough to cut windows.
Douglas Commercial supplies customers across the Midlands, Wales and the southern half of the UK. It specialises in aluminium system products and first started manufacturing in 1996. For more information, visit www.douglascomm.co.uk. For more about Emmegi, visit www.emmegi.com.