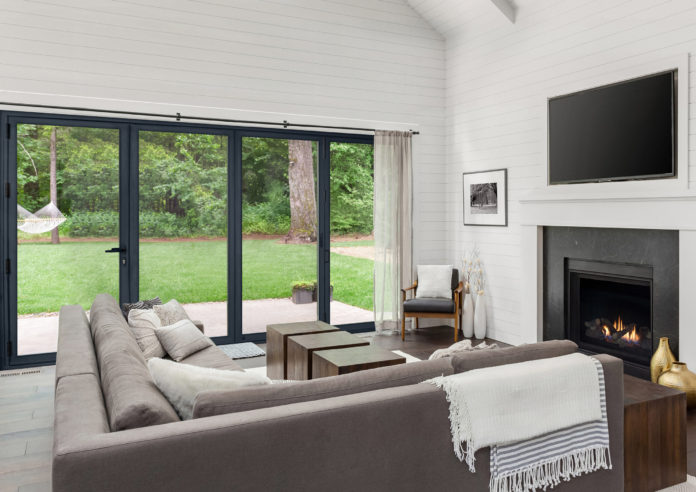 BM Aluminium has added Deceuninck Aluminium's Decalu88 bi-fold door to its Logikal database, simplifying the manufacture of the company's flagship product offering. Nigel Headford, Deceuninck Aluminium's business development director, explained: "The vast majority of fabricators use Logikal. It offers integration of process from estimation to manufacture. With the majority of our products already on it, bringing the Decalu88 Bi-fold online, puts everything into place, simplifying the manufacture for our existing customers and also speeding up set up as we bring new fabricators on board."
The Decalu88 bi-fold has gained a significant following among installers thanks to its ease of installation. This includes the glazing of each sash in as little as five minutes, through the use of a co-extruded pre-inserted gasket, and two fully adjustable jambs, each offering up to 7mm tolerance, simplifying door squaring and setting.
Additionally, its U-values are as low as 0.68W/m², with each sash able to accommodate weights of 200kg and up to 3m in height. It also offers impressive design flexibility while guaranteeing ultra-smooth running.
Nigel continued: "The selling point for the Decalu88, in common with the Decalu163 lift-and-slide, and everything else in our range, is that it's been designed to simple manufacture. Gaskets and thermal breaking technology are pre-inserted, and we supply product marine-grade and dual colour as standard. We have stripped everything back to support simpler manufacture."
Deceuninck Aluminium also offers the Decalu88 residential door, which uses patented thermal-breaking technology to guarantee a maximum bowing tolerance of on 2.5mm under heat stress. A range of contemporary casements is also offered, reversible, tilt and turn and heritage options achieving U-values as low as 0.89W/m²k.
Nigel concluded: "To have our complete range on Logikal is a real achievement. With lower stockholding, the use of pre-inserted co-extruded gaskets, a standardised colour offer, with marine, dual coloured and textured options, the system and our offer is designed to simplify manufacture.
"Logikal extends that, to process. The addition of the Decalu88 Bi-fold, delivers an immediate advantage to our customers and those who join us going forward."