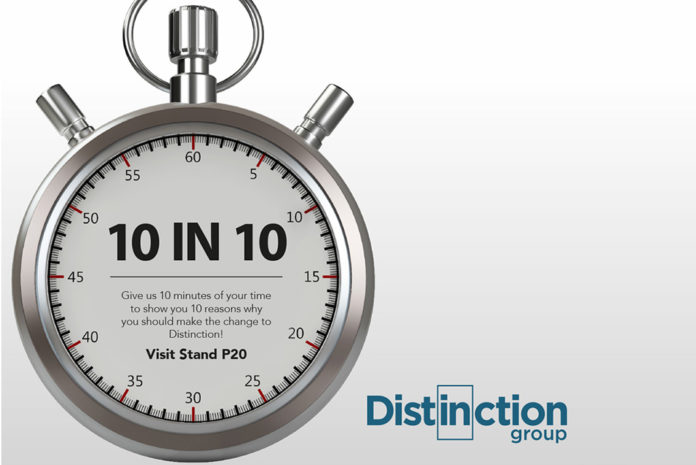 Distinction Doors has revealed a bold '10in10' initiative for the forthcoming FIT Show, in which it is inviting customers to give them 10 minutes of their time, in return for 10 reasons to become a Distinction Doors trade partner.
Devised collectively by the sales, marketing, quality, and customer service teams, Distinction's 2019 FIT Show philosophy aims to pinpoint what trade customers really want from an effective door supplier and demonstrate how Distinction can really deliver this.
"With this FIT Show looking to be bigger than the last, we are very aware that there are going to be hundreds of exhibitors each grappling for visitors' time. We realise that any time that these visitors can give to us is precious," said sales and marketing director, Chantel Roach.
"Distinction has therefore made it essential that it's on-stand message is especially clear, concise and to be delivered by approachable, knowledgeable and well-trained staff. This will be our opportunity to demonstrate our proven track record of supporting customers through every part of the chain and show how we can do the same for others – from a trouble-free transition to reliable stockholding, flexible prepping services to sales and marketing support."
Alongside the 10in10 appointment hub, visitors to stand P20 can expect to see a host of examples from various Distinction Doors ranges – including nxt-gen, Infinity Collection, Rustic Renown and Stable – as well as the choice of new colours now available, all on fast turnaround thanks to Distinction's sizeable paint shop capacity.
Completing the FIT offering will be a new look brochure, an assortment of triple glazed, laminated glass designs to showcase what Distinction can consistently offer customers from stock, as well as live demos of the company's bespoke, free, lead-generation door designer.
Chantel concluded: "We not only manufacture the highest quality, most thermally efficient products for our customers but help give them the identity, tools and support that they need to stand out from the crowd. This is what truly sets us apart from other door manufactures – make an appointment with us for FIT Show, it's time to change to Distinction."