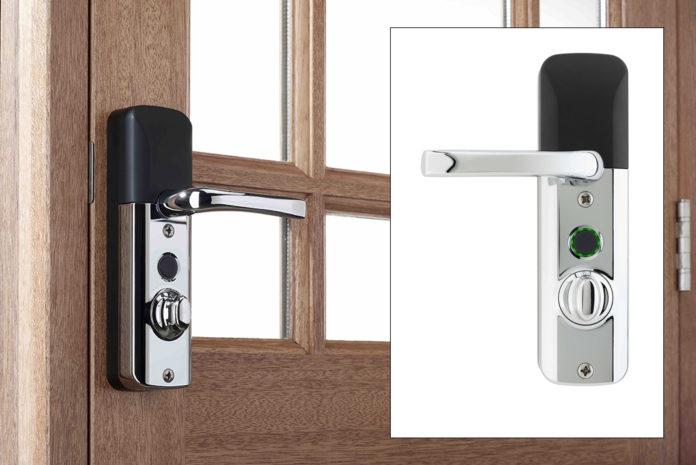 Mighton Products, which launched its new Apple HomeKit-based multipoint Avia smart lock at the Consumer Electronics Show (CES) in Las Vegas earlier this year, is to make the product available to the UK window and door home improvement market through hardware distributor Mila. Mila and Mighton will be exhibiting together at the FIT Show on a stand dedicated exclusively to this exciting new product (H30).
Avia, said to be the world's first Apple HomeKit smart lock to be developed for multipoint systems, is controllable using iPad, iPhone, Apple Watch, keypad and fob and is a 'full function' smart lock: the multipoint locks are secured by raising the handle and unlocked using the app installed on an Apple iPhone or iPad; by using a highly secure key fob from a range of up to 300 metres, or via an electronic keypad. A further innovation that will be demonstrated at the FIT Show is face recognition, activated via an optional accessory.
Access for additional users may be extended, controlled and revoked via the app from anywhere in the world, for example to allow easy access for service providers.
The Apple HomeKit platform is reported to be highly secure and a traditional key may be used in the TS 007 3 star cylinder as an emergency backup to offer total peace of mind. According to Mighton, any competent person can install Avia in minutes on existing multipoint-equipped doors.
Mila says it will use its 'extensive market presence and expertise' to introduce the Avia smart lock to residential door manufacturers and installers serving the home improvement market, with demand expected to grow as smart technology becomes more broadly acceptable in this marketplace. Mighton is also developing further related smart home products based upon Apple HomeKit technology, which is claimed to be 'the most secure and robust' available.
Mighton's Mike Derham said: "We operate on the periphery of the home improvement market and believe that Mila will ensure that the full potential for Avia will be realised. As the only Apple HomeKit-based multipoint smart lock, demand for Avia will be strong and companies that offer Avia as an option for their customers will enjoy the kudos that the Apple HomeKit brand and technology will bring to their product."
Mighton Avia smart locks and accessories will be available from May 2019 to the UK window and door trade through Mila and to other professional and commercial customers via the Apple website, Amazon and direct via the Avia site.